When it's time for you or your business to post or update a professional-looking Web site, you can either hire a designer or do it yourself. Freeway 5 Pro ( ) makes the second option possible for more people; it lets you get professional-looking results without any of the hand-coding that Web pros rely on.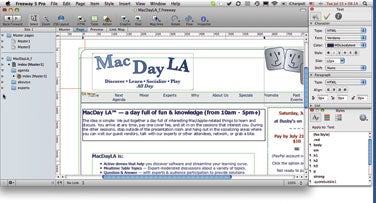 That's because Freeway is an HTML generator, not an HTML editor: You design your site visually, and then Freeway creates the code. You can, if you're so inclined, add your own code, including PHP, CSS, JavaScript, and Server Side Includes; you could even create a pure CSS site.
Freeway Pro's look-and-feel very much mimics that of an Apple app like iLife or Mail, so it's easy to pick up and learn; the page-design interface is not much different from Pages' or InDesign's. Freeway 5 Pro is a great choice for designers who don't want to learn HTML and CSS.
Read our full review of Freeway 5 Pro ($249, upgrade, $99; ( Softpress Systems).
Go back to our list of Eddy winners