If your MacBook starts misbehaving and you're nowhere near a Genius Bar, your first instinct may be to reach for your OS X Install disc to run some tests. Until you realize you don't have the disc with you.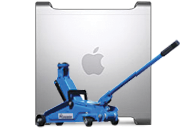 That's when AppleJack ( ) comes in handy. You just start your Mac in single-user mode (by holding down Command-S at startup), and AppleJack's easy-to-use interface lets you perform a slew of troubleshooting tasks—repairing your hard drive, testing RAM, repairing permissions, deleting cache files, and validating preferences files—without requiring a special disc or another startup volume. And because it's available in single-user mode, AppleJack works even when a problem keeps OS X's graphical interface from loading.
Read our full review of AppleJack 1.5 (payment requested; The Apotek).
Go back to our list of Eddy winners
UPDATED 12/3/2008, 12:00pm: Clarified description of graphical interface vs. Mac OS X.