One of the promises of Leopard was that—with the new version of iCal and its support for CalDAV servers—Mac users would finally be able to share editable versions of their calendars with coworkers and family members. It's a promise that hasn't really been fulfilled, at least not with Apple's built-in tools. But BusyMac's excellent $25 BusySync ( ) makes it a reality, giving you the power to sync your private calendar with your spouse and to sync your work calendar with your personal assistant.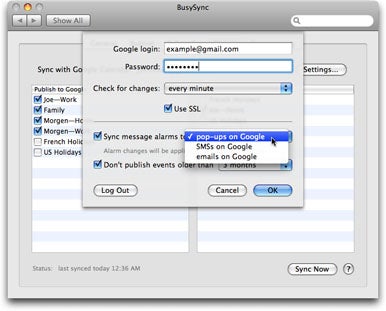 BusySync lets you sync calendars across your LAN or across the Internet, complete with password protection, and it also syncs with Google Calendar. Since it uses iCal, your calendars sync with your iPhone, too. And BusySync's interface is simple (though if you're planning to sync across the Internet through a firewall, you'll need to do some router configuration).
BusySync doesn't quite get us all the way to calendar heaven, but it brought us a darn sight closer than Leopard did this year.
Read our full review of BusySync 2.1.6 ($25 per computer; BusyMac).
Go back to our list of Eddy winners