If, like most Macworld editors, you occasionally need to record movies of what's happening on your Mac's screen (or what its iSight camera or connected video camera is capturing), check out ScreenFlow ( ), our favorite way to get the job done.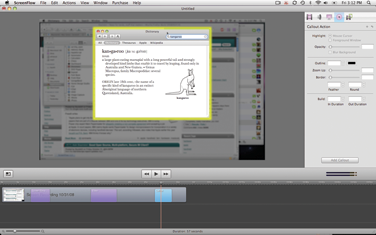 On the surface, ScreenFlow is a simple screen-recording tool. But as soon as you finish a recording, you'll discover that it does much more. Recorded movies open instantly in the ScreenFlow editor—a pared-down version of a timeline-based video editor like Final Cut Express. You can, for example, set in- and out-points, trim the front or back of a clip, and add markers.
ScreenFlow actions also let you do things such as change the screen's scale, x-y position, rotation, and opacity; add reflections and shadows; show which keys have been pressed; show a click effect and/or play a sound on mouse click, and change the pointer zoom. You can also highlight the mouse cursor or the frontmost window, which makes it easy to spot. You can zoom the window or the area around the mouse cursor, add a border or change the opacity, and build smoothly into and out of your effects. When you're done editing, you can save the file for future use or export it to a QuickTime movie.
Read our full review of ScreenFlow 1.0.2 ($99; Flip4Mac).
Go back to our list of Eddy winners