The diminutive AirPort Express is one of the unsung heroes of the Apple hardware lineup. While you can use it to easily stream audio from your computer to any pair of remote speakers, its main limitation is its software, which limits the audio source to iTunes.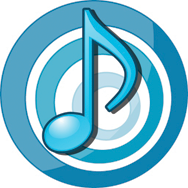 Rogue Amoeba's Airfoil ( ) unshackles you from iTunes, so you can send audio from any application on your Mac to your remote speakers. With its help, you can watch videos, play games, and even have voice chats with audio streamed to any pair of external speakers—no wires necessary.
Subsequent versions have added the ability to send audio to Apple TVs, as well as the AirPort Express; if you don't have either of those devices handy, you can use the free Airfoil Speakers application to use another computer's speakers. Rogue Amoeba has even included its own video player application to make sure that video and streamed audio play in sync.
Airfoil may be a niche product, but when it comes to getting the most out of your AirPort Express or Apple TV, Airfoil fills that niche superbly.
Read our full review of Airfoil 3.1 ($25, upgrade, $10; Rogue Amoeba).
Go back to our list of Eddy winners