If pressed for a quick description, I'd probably call Ableton Live 7 ( ) a digital audio workstation—a music application that records and plays back audio and MIDI tracks. But that terse description leaves so much unsaid.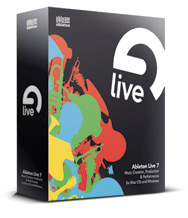 Yes, Live 7 can record and play audio and MIDI, but it's also among the world's most powerful and flexible loop sequencers—allowing you not only to string together countless musical snippets in order to create tracks and compositions, but also to trigger those snippets and tracks via a MIDI controller; this makes Live as much a performance instrument as it is a desktop workstation.
Live has always been a capable application, and now it's more so. New features include Drum Racks, a feature that allows you to easily build extensively configurable virtual drum machines that you can play with a mouse, a keyboard, or a MIDI controller. Live 7's Slice feature makes it easy to split audio files into their component parts and then map those parts to individual pads in a drum rack (all while having complete editing control over the sampled sounds). Finally, you can assign multiple time signatures to a single project. Live 7 more than lives up to the program's stellar rep as one of the Mac's most musical applications.
Read our full review of Ableton Live 7 ($499; Ableton
Go back to our list of Eddy winners