Amp-modeling software—which lets you re-create the sound of different guitars and amplifiers on your Mac—is not new. But when Vox, one of the top amp makers in the world, gets into the ring, you take notice.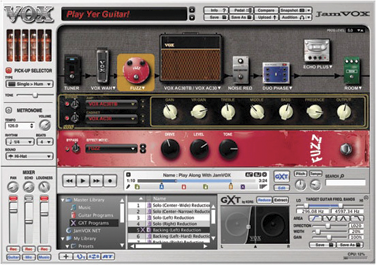 JamVox is more than just another attempt at modeling some of the most sought-after guitar tones. This is the company that made those tones, and it has a longstanding relationship with Korg and Marshall, so it's in a unique position to make software amps that sound like the real things.
JamVox goes beyond just modeling amps and effects. It will also import links into your iTunes library, so you can play along to songs without leaving the JamVox interface. The software also includes technology that removes the guitar part of a song, so you can play it. The USB hardware unit that comes with JamVox isn't just a way to bring your guitar into the Mac; it's also a nice-sounding speaker, so you have the ability to plug in and listen to your guitar right away.
Vox thought of nearly every aspect of what a Mac-using guitarist would want in amp-modeling software and then delivered it.
Read more details about JamVox ($340; Vox).
Go back to our list of Eddy winners