Thanksgiving is over here in the US, and you know what that means: the cavalcade of "Best of 2008" lists is here. Apple has created a special page (iTunes link) on the iTunes store highlighting the most purchased/downloaded items in the store for 2008.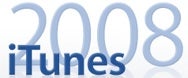 The page includes sections for the best album, music, audiobooks, movies, and TV shows of the year. This is a great way to review the year that was, and see just how far out of touch I have become in regards to pop culture (is it a bad thing that I have never heard of any of the iTunes 2008 top songs? I mean, I'm still hip with the kids. I can get jiggy with it and what have you).
Get out there and celebrate the dawn of 2009 by buying stuff that was popular in 2008. It is the American way, after all.