'Tis the season for taking lots and lots of digital photos. As families gather across the world to celebrate a variety of holidays, more than one digital camera will no doubt be snapping pics of everything from Dad carving into that turkey to Uncle Al putting a lampshade on his head (Oh, Uncle Al, that never gets old!).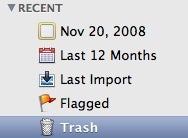 Digital cameras are great because you can take fifty photos to get that one great shot. iPhoto is more than happy to import all those pictures, organize them for you, and display them so you can separate the wheat from the chaff. But did you ever wonder what happens to pictures you delete from an iPhoto album?
Seems like a silly question, doesn't it? Deleted pictures are…well…deleted, aren't they? Aha! Not in iPhoto: You see, iPhoto is a paranoid application. It knows (or at least the programming team behind iPhoto knows) that digital pictures are very important pieces of data. Mistakenly deleting that once-in-a-lifetime shot isn't something iPhoto wants to take the blame for. That's why when you hit delete in iPhoto the offending picture isn't actually deleted. Instead, it'is whisked away to the iPhoto Trash (pictured to the left). This digital waste bin will hold your cast-off pictures until you go to the effort of emptying iPhoto's Trash.
Why am I going on and about this? Because the other day my girlfriend's MacBook popped up a warning about low disk space: turns out she had only a mere 111MB of free space left on her hard disk. She looked at me, famed Mac pundit that I am, and said, 'Fix it!' Her first thought was that we would need to get a bigger hard disk and slap it into the MacBook (a rather simple, if time-consuming task, when you factor in the time it takes to restore her data from a backup), but I had a sneaking suspicion iPhoto was to blame.
Clicking on the Trash icon in iPhoto revealed thousands of heretofore forgotten pictures (some of yours truly) that iPhoto was patiently hoarding, just in case they were deleted in haste. Emptying the iPhoto Trash—which you can do by right-clicking on the Trash and selecting 'Empty Trash,' or by going to the iPhoto menu and selecting 'Empty Trash'—freed up an astounding 10GB of hard disk space in a few minutes.
So, consider this a public service announcement in this holiday season: take a moment to see how many pictures are hanging out in your iPhoto's Trash. You may be amazed at all the hard drive space you can get back.