QuickerTek has introduced an external battery that works with the iPod, iPod touch and iPhone. It costs $44.95.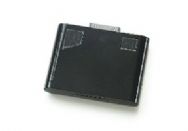 The battery plugs into the 30-pin dock connector port on iPods and iPhones. It has a retractable USB charging cable that lets you connect it to a computer (or USB-equipped power plug); that will charge both it and the internal battery in the iPhone or iPod.
QuickerTek claims the battery provides up to 30 additional hours of music playback time, an extra six hours of video playback, or up to three hours of additional talk time for iPhone 3G users.