One of the more intriguing interactive uses of Adobe Flash comes from a company called Cipher Prime. Their effort, Auditorium, is a Flash-based game that's building a groundswell of interest in gaming circles, and is attracting many people who don't ordinarily play games. It also seems like a natural fit for the iPhone.
"We've certainly been asked about an iPhone version," said William Stallwood, one half of the development team working on Auditorium. "We don't have any iPhone development experience but we don't expect that we'll have any problems making it work on that platform."
Auditorium is the work of Stallwood and Dain Saint, who also run a Philadelphia-based Web site development studio as a full-time business. Stallwood describes Auditorium as a "passion project" that the two have been working on more-or-less around the clock — in between their billable work for clients — for the last several months.
Auditorium is a really intriguing and addictive multisensory experience — part puzzle game, part light sculpture, part musical instrument — in which you use various controls to redirect "The Flow" — a stream of particles that will create sound when they're matched with an "Audio Container" of the same color. The Flow and the Audio Containers reside in different parts of the play area. Using directional controls, attractors and repellers, and other objects, you redirect The Flow to the appropriate Audio Containers. When The Flow hits the Audio Container, it activates a music soundtrack. Once that's done, the level is complete.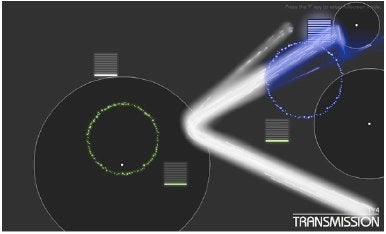 Over the course of three acts, each comprising several individual levels, players learn how to manipulate Controls and obstacles in order to get the Flow to where it needs to be.
Stallwood explained that the Auditorium Web site was first posted several weeks ago and got little exposure at first, disheartening the pair enough that they considered putting Auditorium on the back burner and getting back to the daily grind. Word of mouth has built public awareness of Auditorium — even at Macworld, where Auditorium first blipped on our radar after a reader tipped off resident Mac OS X Hints editor Rob Griffiths. Thanks to social networking sites and news blogs, the traffic has picked up dramatically — enough that Stallwood and Saint are actively developing the game further. They're also planning on offering further details about the background of Auditorium in a developer's blog that should go online Wednesday.
Stallwood cautioned that the Adobe Flash version on the Auditorium Web site is, as is described on the Web site, a demo only. It can be played for free, and it's smart enough to remember where you left off if you don't finish playing in a single session. Cipher Prime is also accepting donations for visitors who want to see Auditorium developed further.
The developers say that they've pushed Flash to its limit and well beyond. "We've designed a custom framework for Auditorium, a custom particle effects system, and more," said Saint.
Inspired by how the Flash game runs on an HP TouchSmart PC — a Windows PC equipped with touch screen technology — Stallwood and Saint have put development of a Windows app into high gear, and hope to have it completed by Christmas. From there, they'll take a breath and see where the next step leads, and they're certainly leaving the door open to an iPhone and iPod touch version.
Stallwood said that Cipher Prime hasn't been approached by any investors or game publishers interested in financing the game's conversion to other platforms yet. For now, Cipher Prime is very much the classic bootstrap operation: Two guys with a great idea toiling away at it in their spare time. And for now, anyway, that suits Stallwood and Saint just fine.
"It seems like some of the greatest ideas have come from [bootstrap operations]," said Saint. "I think when you don't have a ton of resources to exploit, you have to focus on to the real core of your idea to flesh it out."