Freeverse Software's second Flick Sports title, Flick Fishing, is a considerably better outing than its predecessor, Flick Bowling ( ). The fishing game combines Wii-style gameplay with a ridiculously reasonable price.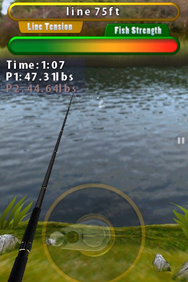 Flick Fishing aptly describes the gameplay. You're a recreational fisherman, and you can choose from six different fishing holes. Each hole features very different terrain and different kinds of fish to catch—everything from a pond where you can catch catfish to a lake populated by largemouth bass, a river busy with pike, breakwater fishing, and a couple of deep sea locales.
Playing the game requires you to cast by, literally, flicking the iPhone or iPod touch. The straighter you cast your line and the more forcefully, the farther away from shore you'll get and the better the chance you'll have of hooking a monster. You can also bait your line with different lures and bait, depending on where you're fishing.
Read more…
After you've cast your line you wait for a fish to get hooked, then it's time to reel it in. Once you've cast your line, a reel appears at the bottom of the screen—moving your thumb clockwise will reel it in. This is where the real challenge takes place, but the fish don't go easily, and it's easy to snap your line as they fight against you. A line tension gauge appears as soon as the fish bites the line, and you have to prevent it from breaking by letting the reel spool out a bit, then reeling it in. It can be quite a fight, especially when you start catching sportfish like tuna and marlin.
Once you've explored each fishing location and you have a good sense of how to cast and bait to catch the biggest fish, it's time to apply your skills to some competition. To that end, Flick Fishing sports two tournament modes that lets you test your skill in timed, three-minute matches. The game lets you play against another person in a "hot seat" game (by passing the device from one player to the other), against the computer, or, if there's another player nearby, using ad-hoc Wi-Fi networking.
"Big Catch" encourages you to try to catch as many fish as you can in three minutes. Whoever catches the most fish—in pounds—wins. "Big Fish" focuses on catching the single biggest fish, which requires different skill—knowing the waters, knowing how to bait the hook, and knowing how to cast.
One thing I particularly like about Flick Fishing is how the rod bobs and weaves as you lift the iPhone up and down, left and right. It's attention to detail like that which was missing from Flick Bowling, and I'm happy to see Freeverse make up for it here, especially at such a fair price.
Flick Fishing is compatible with any iPhone or iPod touch running the iPhone 2.2 software update.
[Senior editor Peter Cohen covers games for Macworld's Game Room.]