Casio today announced plans to release two new digital cameras. The new Exilim Zoom EX-Z280 and Exilim EX-Z33 are point-and-shoot cameras targeted at novice photographers. (Casio had yet to post product pages for each camera at the time of this article.)
Exilim Zoom EX-Z280
The 12.1-megapixel EX-Z280 uses Casio's Exilim Engine 4.0, which uses two processors that allows for very fast image processing, according to Casio. Casio also says that Exilim Engine 4.0 creates less image noise when shooting at high ISO settings, and backlit scenes and night shots are clearer.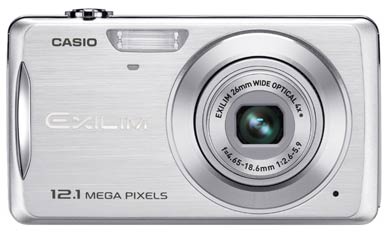 The EX-Z280 has a 26 mm, 4x optical zoom lens, CCD-shift image stabilization, and an Easy Mode function that uses a simplified menu screen for no-nonsense shooting. The camera also has a Makeup function that adjusts focus and exposure on faces, a Handheld Night Scene function and Lighting function that automatically adjusts settings for shots in dimly-lit areas, and a new Dynamic Photo feature that lets you add animated clip art to any picture.
The camera can shoot videos at 720p. A YouTube mode automatically formats videos at a size and quality setting appropriate for the video sharing site.
The EX-Z280 will be available in September for $180.
Exilim EX-Z33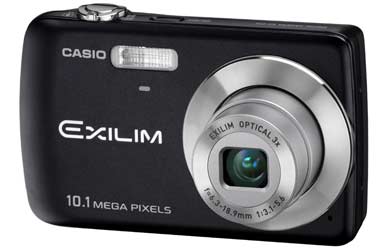 The 10.1-megapixel EX-Z33 is an affordable entry-level point-and-shoot camera. It has an 18.9 mm, 3x optical zoom lens. A key feature of the EX-Z33 is its dedicated movie button, which quickly puts the camera in video mode. The EX-Z33 can record videos in a widescreen 16:9 aspect ratio (but not HD video resolution).
The EX-Z33 comes in black, blue, light pink, vivid pick, and silver. The camera will be available in September for $120.
[Roman Loyola is a senior editor for Macworld.]