Every three years something special happens—and I'm not talking about a new Harry Potter movie. The U.S. Librarian of Congress is required to issue exemptions to the anti-circumvention clause of the Digital Millennium Copyright Act, the law that makes it a crime to work around encryption or Digital Rights Management protecting copyrighted materials. This year, among the exemptions proposed by the public is one that would make it legal for consumers to hack their phones (PDF link) via a process called jailbreaking, in order to install third-party applications available from sources other than Apple's App Store.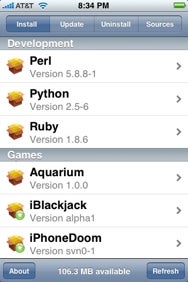 The proposal in question was submitted by the Electronic Frontier Foundation (EFF) and argues that end users should be allowed to jailbreak their phones to use legally-acquired third-party applications. While the exemption would not be limited to the iPhone, Apple's handset (along with T-Mobile's G1) is mentioned prominently in the proposal.
In making its case, the EFF suggests that allowing users to jailbreak their phones does no appreciable damage to Apple and indeed even has a competitive benefit, allowing a means to distribute applications that is not Apple-controlled and thus does not fall subject to the whims of Apple's App Store approval process. Furthermore, the proposal goes so far as to argue that legalizing jailbreaking could actually benefit Apple by making the iPhone more attractive to consumers, though I think they might be overstating that point.
While jailbreaking has been widespread since early on in the iPhone's existence—the EFF document cites figures of around 350,000 users, though that's just a small percentage of the over 10 million phones Apple has sold—Apple has shown little interest in legally going after those hackers responsible for creating the tools that allow users to jailbreak their phones, instead preferring to take the technological route of routinely updating its firmware with new copy protections. While the company has hauled out the DMCA in other cases, it appears that it isn't concerned enough about the jailbreaking community to spend its time and money sending out lawsuits.
That might seem to make the EFF's proposal a moot point, though making sure that such activity is legal would certainly provide reassurance to hackers working on jailbreaking projects. The exemption, if issued, would be valid for three years, after which it would have to be renewed in order to stay on the books.