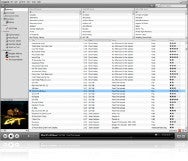 Mozilla super fans will be pleased to know that the open source music playing application Songbird has debuted its 1.0 version. It's here to free us from our evil iTunes overlords or something. The biggest selling points seem to be that it's open-source and that it's not the established players.
I decided to take a look to see what the appeal was. I have a love/hate relationship with the iTunes Store: sometimes I like that I can get music from it, but most of the time, I resent it. Songbird has no such store, which could be viewed as a plus. On the other hand, without that store, the primary way to get music into your computer is to rip CDs. The cruel joke is that CD-ripping is still a planned feature. You can import from existing iTunes libraries, but you have no store to buy from or any way to get your CD music directly into the application.
Ok, ok. Let's try to put that behind us. I like to listen to my music on my iPod. Sadly, iPod, iPhone, and even Zune support is also one of those fancy "Coming Soon" features. So now I'm tethered to my computer and limited to the music I already had. That's okay, I've got an old Mac that I have hooked up to a sound system. Well, you better hope that your definition of "old" is Intel Mac or later. PowerPC Macs are not supported. At all. Neither are OS X versions earlier than 10.5.
Somehow, I doubt that Songbird is going to set fire to the Mac community, unless you count spontaneous combustion from sheer frustration. An Intel- and 10.5-only music player with no CD-ripping, iPod support, or integrated store just doesn't strike me as something people are really looking for.