Blah, blah, blah, everybody's talking about multi-touch these days when it comes to emerging interfaces. But what if you could interact with your computer without even touching it? That's the idea behind Magic Jungle's Fluid Tunes application, which lets you control iTunes playback just by gesturing with your hand in the air.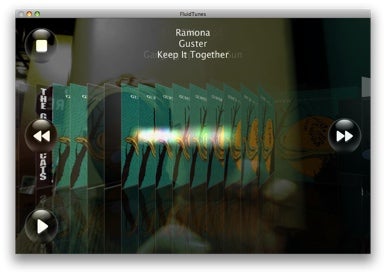 How does this magic work? Smoke and mirrors, obviously, right? Not quite. Fluid Tunes uses your Mac's iSight to track your hands' motions and translate them into commands. And it works, if a bit temperamentally. It's pretty darn futuristic to flick through a Cover Flow view of your songs, and play, pause, or switch tracks all without touching your computer.
Ultimately, though, Fluid Tunes is little more than a proof-of-concept: for one thing, you need to spend some time correctly positioning your hands in relation to the screen; for another, there's too much false input. Depending what other parts of your body show up in the frame—your head, for example—they can accidentally trigger buttons. And, of course, the functionality is pretty limited in comparison to what you can do with iTunes. Oh, plus there's also the whole issue of looking like a crazed lunatic while gesticulating wildly at your laptop in the local cafe. I hear.
So, yeah: Fluid Tunes may not be quite ready for prime time, but it's always good to see people thinking about new and different ways to interact with the computer. In ten years, maybe we'll all be waving at our laptops and it won't look any weirder than the everyday sight of otherwise sane people walking down the street apparently talking to themselves.
[via Reality Distortion]