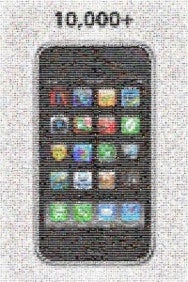 Late last week, iPhone app-tracking site 148apps.com noted that there were over 10,000 applications available for the iPhone and iPod touch, even posting a mosaic of all of the programs' icons that you could click to go to their App Store page. However, Apple 2.0 points out that, due to apps that have been removed for whatever reason, the true figure at the time was more like 9,676.
Yesterday, AppShopper.com, in its own unofficial tally of iPhone apps, noted that there are now 10,000 bona fide applications available for the platform. What's the lucky app to hit the auspicious milestone? That would be Adventoozle, a series of games that you can play during Advent.
There aren't a ton of apps that I use regularly on my iPhone, with perhaps the exceptions of Facebook and Cro-Mag Rally. But poking around the iTunes Store, I'm noticing that Nanosaur has dropped its price down to $0.99 (at that price, how can I refuse?), and maybe I'll give the KPCC Radio app a spin.
What apps are you rockin' these days?