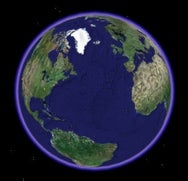 While Google Earth came out for the iPhone in late October, that was pretty cool. But what's even cooler is the fact that Google has now released an OS X version of a Google Earth browser plugin. That means that now you can get to Google Earth locations right in your browser, without having to fire up another application. And seeing how that other application is Google Earth, which is roughly as slow to launch as molasses carried by sloths through a tar pit, that's a Good Thing.
Roman, a Google employee, wrote early this morning on the KML Developer Support page on Google Groups:
We've worked very long and hard on this release. One of the reasons for the large size is the fact that both PPC and Intel versions of the plugin binaries are packaged in. There are also some other space-saving changes that we may look into later on.
Once you get the plugin, which is compatible with both Safari and Firefox 3, DigitalEarthBlog recommends you check out these sites to demo this new sweet feature.
Happy virtual globetrotting!