At a Glance
Expert's Rating
Pros
Both glossy and anti-glare screens available
Fast performance
Expansive, high-resolution screen
Cons
Lacks some of Apple's latest laptop technology
Heavy
Our Verdict
The changes to this 17-inch system are minor compared to the radical overhaul of the 15-inch MacBook Pro models. The 17-inch configuration features the same enclosure and processor as the spring 2008 update, instead of the unibody design that the rest of the MacBook Pro line features. But Apple upped the shipping RAM to the maximum 4GB and boosted the hard-drive capacity to 320GB. The 17-inch MacBook Pro now comes with the 1920 x 1200 screen, whether in standard glossy or optional matte form.
Apple's October 2008 laptop refresh introduced some major changes. New unibody designs provide an easy-to-spot visual differentiation, while new dual graphics chips distinguished the new 15-inch MacBook Pros ( ) from the new aluminum MacBooks ( ). The 17-inch MacBook Pro 2.5GHz saw changes as well, but the changes were much more subtle. These tweaks, modest as they may be, make the 17-inch MacBook Pro quite an attractive option for anyone looking for a true desktop replacement system.
What's new
At first glance (and possibly each subsequent glance after that), the changes to the 17-inch MacBook Pro aren't apparent. The external design is identical to that used in the last couple of generations of Apple's largest laptop. Once you power it up, you'll find that the new 17-inch MacBook Pro features a screen with a higher native resolution screen than in years previous, 1,920-by-1,200 as opposed to 1,680-by-1,050; that's 31 percent more pixels occupying the same amount of screen real estate. The good news is that you can fit more of a large image on screen, view full 1080p high definition video, and have more windows open. The bad news is that everything—images and icons alike—appear smaller. I increased the icon size on the desktop because they were too small for me at the default setting.
The new 17-inch MacBook Pro also features more RAM (4GB as opposed to 2GB) than the previous model, which was released in March 2008. The standard configuration hard drive also received an upgrade, up to 320GB of capacity instead of the previous 250GB.
The components in the standard configuration except for the 7,200 rpm hard drive were available as customize-to-order options in the previous 17-inch MacBook Pro (the previous model had only 4,200 rpm drives available at the 320GB capacity). Had you purchased the previous model to match the current specs of the new model a week before the new one was released, you would've paid $375 more than the price of the new model, and you'd be stuck with a slower drive.
What's not so new
The features unchanged in this laptop far outnumber the changes. The new 17-inch MacBook Pro uses the same case as the previous model, weighs the same 6.6 pounds, and has the same peripheral ports (three USB 2.0 connectors, one FireWire 400, and one FireWire 800 port). It has the same keyboard and trackpad and can also recognize the three-finger multitouch gestures, but not the new four-finger gestures. It also has the same Intel Penryn processor, a Core 2 Duo running at 2.5GHz, a tad slower than the 2.53GHz Core 2 Duo processor in the high-end 15-inch MacBook Pro. The laptop has the same 6MB shared on-chip level 2 cache and 800MHz frontside bus as before.
The 17-inch MacBook Pro still uses Nvidia's GeForce 8600M GT graphics with 512MB of GDDR3 memory; it doesn't have the dual graphics card setup featured in the 15-inch MacBook Pro models. The new 17-inch MacBook Pro still has a dual-link DVI graphics port that can drive monitors as big as Apple's 30-inch Cinema Display ( ). It cannot, however, be attached to the new 24-inch LED Cinema Display ($899), as no DVI-to-Mini Display Port converter box or cable is available at the time of this review. The laptop's 17-inch widescreen display still uses an LED backlight.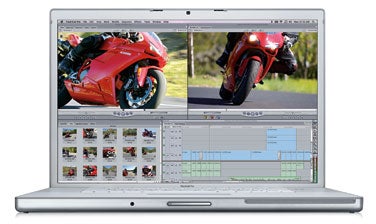 Options
The list of options available for this laptop include a faster 2.6GHz Core 2 Duo processor for $250, a faster 320GB hard drive spinning at 7,200 rpm instead of the standard 5,400 rpm for an additional $50, a 128GB solid state drive for a whopping $500, and your choice of either a glossy or anti-glare screens with no difference in price. This last option makes the 17-inch MacBook Pro the only Mac laptop available with a matte screen. I've been using glossy-screened iMacs and laptops for awhile now and the reflection has never been an issue, though I know for some it's a big deal.
Performance
The 17-inch MacBook Pro that we reviewed was loaned to us from Apple and came with the optional 7,200 rpm hard drive. This faster drive helped our test system post a Speedmark score of 249, 18 points higher than the new 15-inch 2.53GHz MacBook Pro ($2,499) and 10 points lower than a build-to-order 15-inch MacBook Pro with the optional 2.8GHz Core 2 Duo processor ($2,799). For more in-depth analysis of the benchmark results, check out our From the Lab blog post that covers our 17-inch MacBook Pro benchmarks.
17-inch MacBook Pro benchmarks
| | Speedmark 5 | Adobe Photoshop CS3 | Cinema 4D XL 10.5 | Compressor 3.0.4 | iMovie HD | iTunes 7.7 | Quake 4 | Finder | Finder |
| --- | --- | --- | --- | --- | --- | --- | --- | --- | --- |
| | OVERALL SCORE | SUITE | RENDER | MPEG ENCODE | AGED EFFECT | MP3 ENCODE | FRAME RATE | ZIP ARCHIVE | UNZIP ARCHIVE |
| 17-inch MacBook Pro Core 2 Duo/2.5GHz (Oct. 2008: 4GB RAM, 7,200-rpm 320GB drive)* | 249 | 0:50 | 0:51 | 1:42 | 0:43 | 0:59 | 68.9 | 4:18 | 0:57 |
| 17-inch MacBook Pro Core 2 Duo/2.5GHz (Feb. 2008: 4GB RAM, 5,400-rpm 250GB drive) | 220 | 0:58 | 0:52 | 1:44 | 0:45 | 1:00 | 66.1 | 4:36 | 1:28 |
| 15-inch MacBook Pro Core 2 Duo/2.53GHz (Oct. 2008: 4GB RAM, 5,400-rpm 320GB drive) | 231 | 0:56 | 0:53 | 1:41 | 0:44 | 1:00 | 65.7 | 4:37 | 1:15 |
| 15-inch MacBook Pro Core 2 Duo/ 2.8GHz (4GB RAM, Unibody, CTO, 7200RPM HD) | 259 | 0:49 | 0:45 | 1:31 | 0:41 | 0:56 | 73.9 | 3:52 | 1:00 |
| 20-inch iMac Core 2 Duo/2.6GHz | 249 | 0:50 | 0:48 | 1:41 | 0:43 | 0:57 | 67.6 | 4:06 | 1:10 |
| 8-core Mac Pro Xeon/2.8GHz | 308 | 0:49 | 0:15 | 0:51 | 0:32 | 0:48 | 74.2 | 3:53 | 1:11 |
| PowerBook G4/1.67GHz | 91 | 3:02 | 3:57 | 7:47 | 1:59 | 2:26 | 19.9 | 7:14 | 2:21 |
| | >Better | <Better | <Better | <Better | <Better | <Better | >Better | <Better | <Better |
Best results in bold. Reference systems in italics. * denotes build-to-order hard drive.
One piece of the performance puzzle not mentioned in the benchmark article is battery life. In our worst case scenario testing (looping a QuickTime movie from the hard drive at full screen with brightness set to highest, illuminated keypad dimmed, AirPort off, and all other energy setting set to highest performance options), we found that our 17-inch model was able to loop the video for 2 hours and 52 minutes. That's about 16 minutes longer than the new unibody MacBook Pros using the lower-powered Nvidia 9400M graphics. The new 17-inch MacBook Pro's battery life was right in line with a 2.4Ghz 15-inch MacBook Pro from the previous generation, but with its faster spinning hard drive, we found the battery dying 43 minutes earlier than the 2.5Ghz 17-inch MacBook Pro with a 5,400 rpm hard drive.
Macworld's buying advice
For those looking for a portable desktop experience, the 17-inch MacBook Pro offers a great combination of a large widescreen display, fast performance and luggable design. The changes to this latest version are subtle, and there are, most likely, more substantial changes for Apple's largest laptop down the road, but if you can stand carrying the extra weight, or require a matte screen, the 17-inch MacBook Pro is a big, beautiful, and fast portable.
[James Galbraith is the lab director for Macworld.]