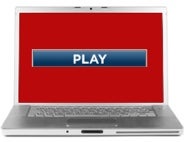 For months we Mac users have been hearing about the wonders and glories of Netflix's instant video Watch Now streaming. But in all that time it's been like a dream to us poor Mac users, as difficult to attain as discovering what lies on the other side of the rainbow. Last month, the company finally began rolling out the feature to some Mac users, but today the company sent an email to its Mac-using subscribers announcing that the service is now available to all Mac users.
Well, almost all Mac users. If you're still kicking it PowerPC-style, I'm afraid you're out of luck: the Silverlight-based player requires an Intel processor. But the rest of us living in the future can now enjoy our ability to watch B horror movies and endless documentaries without ever having to look away from our precious computer screens. Yeah, so the catalog is still a bit limited, but hey, there's always something you can watch that'll be better than staring at a crawling progress bar. Probably.
I actually gave the streaming a whirl a few weeks back, sitting down to watch the classic Mr. Smith Goes to Washington. (I say "classic," but it turns out things haven't really changed that much in Washington in seventy years). For the most part, the experience is pretty solid, although I did run into a couple of connection hiccups; fortunately, Netflix remembers where you left off, and it resumed correctly every time. Plus it looks pretty good full screen (even if it's not available on hacked Apple TVs just yet).
Anuyway, between Netflix, Hulu, and the iTunes Store, it doesn't look like there's a reason you'll ever have to resort to broadcast television or physical media ever again, right? Right?