Dr. Awesome, Microsurgeon M.D.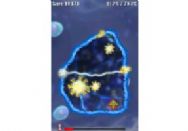 Ngmoco has announced the release of Dr. Awesome, Microsurgeon M.D., priced at $1.99. You must perform microsurgery to isolate and eradicate mutagens that have infected your friends — friends whose names you'll recognize, as they're personalized based on your contact list. You must cut and trap the viruses using a microscalpel, avoid counter attacks and collect powerups.
MotionX-Poker Quest
MotionX's newest iPhone and iPod touch game is called MotionX-Poker Quest. Priced at $2.99, the game is an Egyptian-themed poker dice game. You challenge ancient Egypt's pantheon of gods as you navigate the river Nile, collecting dice and treasures as you achieve game goals.
Ivory Tiles
Ivory Tiles is a new puzzle game in which you use the tilt capabilities of the iPhone and iPod touch to guide ivory tiles around 80 unique game boards. The game features progressive difficulty, mahogany and ivory boards and tiles rendered in 3D, personal high scores, and configurable audio and input. It costs $1.99.
inFact USA
iFact USA is an interactive educational fact game based on the United States. It's regularly priced at $2.99, but you can buy it for $0.99 until Dec. 7. The game contains hundreds of facts pertaining to the states, including capitals, nicknames, famous persons, flags, flowers and state shapes. You'll also learn about geographical features. The game features three difficulty levels, scoring, optional sound effects and dynamically created questions.
Star Wars Sound Board
Star Wars Sound Board isn't a game, but it is entertainment — THQ Wireless has assembled classic Star Wars sounds — snippets of dialogue from Darth Vader and Obi-Wan Kenobi, light saber and TIE Fighter sounds, and more — into a sound board you can activate with a finger press. It costs $0.99.
Word Flow
A new word game for the iPhone and iPod touch, Word Flow has you slide rows and lines of letters to create as many words as possible in the time allowed. The longer the word, the bigger the score. Gold bricks can be used to receive bonuses.
Ambrosia game price cut
Ambrosia Software has announced a sale on all its iPhone and iPod touch games for $0.99. Aki Mahjong, a solitaire tile game, normally costs $4.99. Mondo Solitaire, a solitaire card game, includes more than 100 games — it's normally priced for $9.99. Mr. Sudoku, a Sudoku numbers game, normally costs $4.99.
Bonsai Blast
Glu has released Bonsai Blast, an action-puzzle game in which you shoot and match colored marbles to clear more than 90 Zen levels. It features walls that let you ricochet marbles, chutes to guide marbles down winding paths, and swappable shooter locations. It costs $3.99.
StarBoy
StarBoy flies through the sky, hitting stars to make him fly higher. You get points for helping StarBoy to hit each star. Certain stars give StarBoy extra powers, but beware black holes.
Steppin Lite
A free game from ustwo, Steppin Lite is a racing game in which you use your fingers to "run," stepping on lily pads on a pond to get to the other side in as little time as possible.