At a Glance
Expert's Rating
Pros
Very easy to use
Can run off battery
Cons
Software is Windows only
Battery life is very limited
A little expensive for its size and features
Our Verdict
Kodak is straddling traditionalist and multimedia worlds with its EasyShare S730 frame, and we applaud it for getting the balance right. This stylish, modern-looking, burgundy-bordered frame boasts a rechargeable battery so that it can be passed around without worrying about AC cords. The battery lasts only about an hour, though, so most of the time it will probably be residing on your beside table or desk.
The S730's 7-inch, 800-by-480-pixel display produced excellent results in our tests, with natural-looking, vivid, and detailed pictures. It also displays video (in MOV, AVI, MPEG, and MPEG-4 formats) and plays MP3s with your slideshow or video. A pleasant surprise was how the S730 seems to be raising the bar for audio quality in these devices: This frame has speakers located on the lower rear of the unit, but broadcasting toward the viewer, and the sound quality was remarkably good.
The bundled EasyShare software is for Windows only, which is unfortunate because you use the software to create slideshowsand transfer them to the frame's 1GB of internal memory.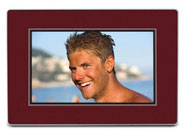 If you plug in a memory card, the frame will automatically start playing the contents: You can use the touch-sensitive border to customize the time between photos and the transitions used. Photos can be viewed alongside a clock or calendar, or in a nifty dynamic collage. If MP3s are saved on the card, the frame will automatically start playing the tunes, too. The S730 accepts all manner of storage cards (SD/SDHC, xD, Memory Stick and Memory Stick Pro Duo, as well as USB flash drives) except CompactFlash. It also connects with your computer via USB.
Macworld's buying advice
Overall, having the EasyShare S730 around is a pleasure, though you can't use the software on a Mac. I do wish the battery life were longer, though. Like all the other frames we've seen, this unit is still basically tethered to the desk.