At a Glance
Expert's Rating
Our Verdict
Totes are excellent everyday bags. Large and easily accessible, they're ideal for everything from loading up on library books to shoplifting Cornish game hens. Clark & Mayfield capitalizes on the format's wide appeal by taking a typical tote and tricking it out with some laptop-specific interior renovations. The result is the MacBook Pro-ready Metro Express Laptop Tote.
Available in three designs—black houndtooth, red plaid, and brown oval—the Metro is constructed from quality faux-leather and polyester. The bag looks and feels well made, and the trim is convincingly leather-like. One if its more appealing features is that it doesn't have the appearance of a laptop-specific bag and can easily be used as a regular purse. The bag is 15 inches wide, 13 inches tall, and 5 inches deep, and weighs in at 2 pounds, 12 ounces when empty. It's made for a 15-inch MacBook Pro; a MacBook or MacBook Air will fit, but will jiggle around inside.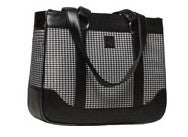 Inside the bag, right in the middle, is a zippered document pouch surrounded by a handful of compartments for your computer accessories, gadgets, and other belongings. Your laptop goes on one side of the middle pouch and is secured in place with a Velcro strap. Unfortunately, the bag doesn't provide much in the way of cushioning for your computer; the walls of the tote are somewhat rigid, but still thin and completely unpadded. Unless you're packing extra clothing or decorative pillows in the bag's ample additional space, taking a hit from the side could be damaging to your laptop. The bottom of the bag is reinforced with rows of padded dots on the inside and metal rivets on the outside, so at least your goods are protected from short drops.
The tote style makes it easy to quickly pull your notebook out of the bag. Unfortunately, the same design means the entire weight of the computer is on just one spot—your shoulder. The 28-inch, tote-style straps are just an inch wide and offer no cushioning, and since the bag lacks a shoulder strap, and offers no clips to attach one, carrying a heavy laptop long distances can be painful. I found myself switching the bag back and forth between my left and right shoulders to even out the stress.
Because of this, the Metro Express isn't for anyone with back problems or rugged lifestyles. It's a casual bag meant for carrying your computer short distances (a commute to work or class, for example). If a grab-and-go tote is what you're looking for and the style is to your liking, the Metro Express is a quality choice.