In my review of Facebook 1.1( ), I was pretty impressed with the iPhone version of the social-networking site. With Facebook 2.0, the company has addressed some of the shortcomings of the first version, and added some additional features.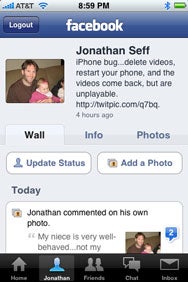 The latest version adds the ability to see and accept—or, if you prefer, ignore—friend requests; notifications of posts on your wall or pokes, for example; and access to the full news feed—top stories, status updates, photos, posted items, and the like. The Show Older Stories button at the end of some of those windows has a bug that just duplicates the most recent item at the bottom instead of given you older content. And you can now search for and invite new friends, although with fewer options than the Web site (you can't do classmate or coworker searches, for example).
Your inbox now contains all of your sent and received messages, regardless of their origin (mobile app or Web site). It doesn't sync status with the Web site—if you read a message online, the iPhone app will still show it as a new message—but the addition makes it easier to follow conversations. You can now view message attachments as well.
For pictures, you can now tag and caption photos, as well as post photos to your friends' Walls directly from your iPhone.
Using the app felt a little snappier than before, although I did encounter a few crashes. All in all, it's a fine update to the previous version, but it still could use a bit more refinement.
Facebook is compatible with any iPhone or iPod touch running the iPhone 2.0 software update.
[Senior news editor Jonathan Seff now has 108 friends on Facebook.]
[Story updated on 12/7 at 9:00AM pacific time to clarify how users can invite friends using the app.]