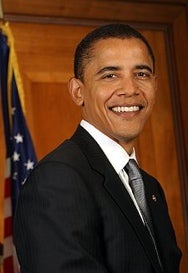 Our long national nightmare is over. Despite rumors to the contrary, it's been confirmed that President-elect Barack Obama is not a user of Microsoft's Zune music player. If you've been holding your breath you can let it out now. Seriously, you're starting to turn a little purple there— anodized aluminum purple , amirite? High five!
According to the Wall Street Journal, an Obama spokesperson put the rumor to rest, saying "Not true, the President-elect uses an iPod." It's good to see the incoming administration is on top of the important issues of our day. I feel better about the future already.
Of course, this isn't really new to us here at MacUser—heck, we were talking about what Obama had on his iPod way back in June and we know he and the rest of the family are Mac users.
Meanwhile, Philadelphia City Paper blogger Neal Santos, who started the uproar after seeing the next president at the local gym, stands by his assertion that he saw Obama using a Zune—but that it wasn't necessarily his Zune.
Look, this is a time for the country to be coming together, not tearing apart at the seams over some age-old partisanship bickering: today, I want all you iPod fanboys out there to go find a Zune user and give them a big old hug. I know it'll be difficult for you (finding a Zune user, that is), but don't be shy: they're all about the social.