Gameloft has released a version of Asphalt 4: Elite Racing which runs on the iPod. It's available for purchase and download from the iTunes Store for $4.99.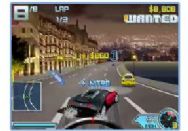 A version of the popular auto racing game that's also available for the iPod touch and iPhone, this version is designed to run on other iPods, specifically third- and fourth-generation iPod nanos, the iPod classic and iPod (5th generation).
Asphalt 4 lets you choose from 10 different cars and motorcycles from real-world manufacturers like Ferrari, Bugatti, Aston Martin, Kawasaki and others. You race in seven cities around the world — everywhere from New York City to Dubai. And you can "tune" your vehicles in your own garage. Five different racing modes include Race, Duel, Cop Chase, Cash Attack and Beat'Em All. And dynamic weather conditions like rain affect your car's handling.