Admit it, you're drowning in a sea of friends, photos and feeds and need a lifeline. Ziibii lassos updates from many of the most popular social networks and media sites, allowing you to check your feeds on Twitter, Facebook, YouTube, Flickr, as well as add feeds from the Web, on a single iPhone app.
The unusually-named app—"ziibii" is a Native American word for river, according to Zumobi—presents all your subscriptions in a "River," essentially a floating list of headlines, that links back to the original item. If you've used a desktop feedreader before, you'll instantly get how to use it. It's a great concept, but the execution is less than impressive.
Read more…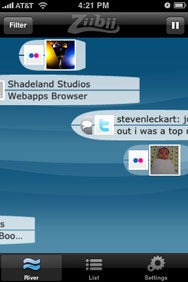 You get started by setting up which sites you want to subscribe to. In the app's settings window, you can log in to your Twitter and Facebook accounts to automatically import status updates from those sites, add Flickr contacts, select YouTube topics (more on this in a bit), and set up Web feed subscriptions. Your subscriptions are then displayed in one of two windows—the aforementioned River or a list view—while a filter button at the top of the screen allows you to just view items from a specific feed, like YouTube. The list view works exactly as it sounds, presenting a list of items from your selected feeds. But the real action is in the river, which streams feeds across the iPhone's screen.
The River sends snack-sized snippets from your various feeds scrolling across the display laid out on little boats. You can control the pace and direction that items flow by in the River by moving your finger horizontally across the screen; a small pause button in the upper right-hand corner lets you stop the flow altogether. You can also move items around in the stream, which doesn't accomplish much but is kind of fun.
Clicking on the floating headlines will take you to a second screen with extended entries, and the option to click through to the original item as published on the Web in a built-in Web browser (sans address bar). You can even click on a small Safari icon to launch the same Web page in a new Safari window, or a share button that lets you send the item out via e-mail or Twitter.
The River is very cool to look at, but, ultimately, it doesn't deliver information as much as it simply teases it. Items in the River are so small that even 140-character Twitter messages are truncated while headlines from Web feeds are typically shortened so much as to be useless. But let's look at how the app handles each category of subscription: Web feeds, Flickr and YouTube multimedia, and status updates from Twitter and Facebook.
The Web feedreader comes with several suggested feeds to follow, most of which are technology-focused. These built-in feeds are easily added by simply ticking the ones you want to subscribe to. Other Web feeds, however, must be entered manually. You cannot click on a feed icon to add it, and, because the iPhone doesn't support copy and paste, you cannot simply copy the address in Safari and then paste it in Ziibii. You're left having to manually peck in long cumbersome URLs. If you don't want to do that, Ziibii does let you enter a site URL, and it'll pick up any RSS feed. But my testing found spotty performance: while www.macworld.com worked just fine, the San Francisco Chronicle's Web site (www.sfgate.com) didn't at all.
The app doesn't give you enough control over either Flickr or YouTube. You can't log in to Flickr, which forces users to manually enter subscription information. This may be fine for users with a small handful of contacts, but if you've got tens or dozens or hundreds—which is not at all uncommon—it is far, far easier to check in on your contacts via Flickr's mobile interface. Worse, I was unable to successfully add most of my Flickr contacts, only successfully adding five of the 12 I attempted, including my own account. Ziibii does not allow you to add specific YouTube accounts at all. Rather, you can pick broad topics on YouTube to follow, like "entertainment" or "comedy" or "gaming". This works about as well as you'd expect; streaming a puzzling mix of links to random YouTube videos across the screen.
Status updates are handled a bit better than the previous subscriptions, likely because they tend to be very short. It's actually quite refreshing to see Facebook status messages freed from that site's walled garden. Clicking on one takes you to an expanded view (which you'll often need to do to read the full entry) and then you have the option to view the "full article," which in fact takes you the user's profile page in the Ziibii Web browser.
Twitter works much the same way: you'll need to click on items to read them—especially if a user has a long screen name, like the ever-popular Merlin Mann whose hotdogsladies Twitter handle takes up most of the first of two lines of display text in Ziibii. Clicking on "More Tweets" at the bottom of the screen will take you to a user's Twitter page, while a "Share" button gives you the option to re-tweet (Twitter parlance for repeating something another user has said with attribution) a specific message. Aside from re-tweeting or going to the built-in Web browser, there is no good way to update Twitter from within the app. As far as Twitter clients go, this one is relatively useless.
Finally, I found Ziibii somewhat crash-prone, a not uncommon experience based on some of the comments posted on Ziibii's App Store page.
Ziibii is an interesting novelty act, and with some interface and feed management improvements could become quite useful. But in its current incarnation, if you are drowning in an information glut the last thing you'll want to do is jump in this river.
Ziibii is compatible with any iPhone or iPod touch running the iPhone 2.x software update.
[You can follow former Macworld associate editor Mathew Honan's Twitter feed if you so desire.]