Where oh where have the movies gone? Frequent Macworld contributor Kirk McElhearn noticed something interesting when he went to grab a movie from the iTunes Store. Of the 15 films he had bookmarked for later viewing, an astounding nine were no longer available for purchase. Or rental. Nor, for that matter, did they seem to exist anywhere on the iTunes Store at all.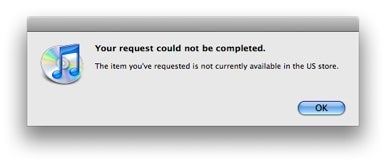 We're not talking small, little-known movies either, but major films from the last year or so, like Atonement, Charlie Wilson's War, Eastern Promises, and Michael Clayton. Sure enough, if you search for any of those titles on the iTunes Store, you'll come up empty-handed in the movies department. Several of the titles popped up an entry for the film soundtracks and if you look for Charlie Wilson's War you'll come up with the audiobook. In many cases, iTunes will even recommend you other movies with the same cast.
But if it's the movie you're looking for, you're out of luck. A quick skim shows that most of the movies that Kirk mentions are distributed by Warner Bros. and Universal, although MGM is also represented. One would presume that there is some sort of licensing issue at stake here, but it's a little odd that these movies just vanished into thin air. Man, it's like a bad horror movie. What'll be the next flick to get the axe? I can't stand the suspense.