Over the years, I've seen iPod docks merged with a wide range of household objects: beds, chairs, desks, LCD displays, keyboards, fireplaces, and even toilet-paper holders.
So it's hard to believe it's taken this long for someone to combine an iPod-charging dock with a nightlight. Yet taken this long it has. Thankfully, Scosche has filled this gaping void in the accessory market with the $40 ReviveLite.
The nightlight section of the ReviveLite consists of a small, white LED behind frosted plastic; when the nightlight is switched on, an ambient-light sensor turns on the LED in low light and disables it in brighter light. The built-in AC plug flips into the body of the ReviveLite for travel.
When you want to charge your iPhone (either model) or iPod (any dock-connector model except the third-generation full-size iPod), the left side of the ReviveLite flips down to expose a dock cradle. A vertical groove along the side of the ReviveLite keeps your iPod or iPhone in place; for added stability, you can slip one of four included hard-foam adapters into the groove.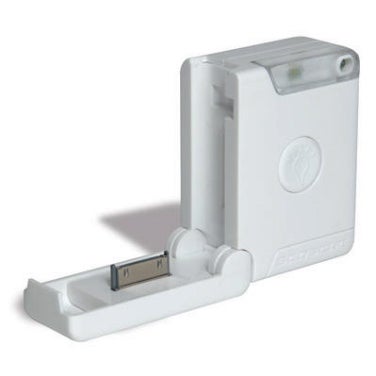 Now, granted, you can get a nice ambient-light-sensor nightlight at Home Depot for less than $10, and a cheap USB power adapter that, together with your iPod or iPhone's own dock-connector cable, will charge your i-device for another $10 or so. But that wouldn't be as gadget-cool, would it?
(On a serious note, as a parent whose toddler likes to sleep to white noise, this might make a nice travel accessory: Stick an iPhone running Ambiance in the ReviveLite and you've got a portable nightlight and a white-noise machine in one convenient package—as well as a fully-charged iPhone in the morning.)