Paramount Wireless on Monday introduced a new iharmonix product line, focused on offering earphone designs. The new earphones are designed to work with iPods, iPhones and Blackberry devices, and run $29.95 – $59.95 depending on the model.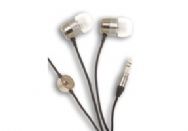 The Platinum i-series features an in-line microphone, multifunction button to send and send calls and to pause music. The ev-Series is designed to work with an iPod; it offers in-line volume control. The e-Series eschews volume control all together. The earphones share 11mm drivers with neodymium magnets, and brushed stainless steel front housing and polished gun-metal alloy rear casing.
Similarly, the Style FX Series comes in an i-Series model that work with the iPhone 3G and BlackBerry, and an e-Series for the iPod.