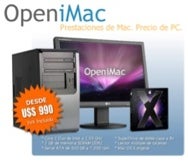 Psystar may be happy going to court to defend its brilliant plan of making Mac clones, but it should be even happier that it's paved the way for other competitors in the Mac market, right? Case in point: meet Argentina-based OpeniMac who, besides clearly angling for a trademark lawsuit, is also going ahead and selling Mac OS X-based computers at prices that undercut Apple's own offerings.
Well, in Argentina, anyway, as the country doesn't have its own Apple Store, online or brick-and-mortar. But if you live in the U.S., the prices aren't really cheaper than buying a comparable Mac.
The company bills its product line with the tag "Benefits of a Mac. Price of a PC." Two models are available: the "OpeniMac" is a $990 2.53GHz Core 2 Duo machine that also sports 2GB of memory, a 320GB SATA drive, SuperDrive, ATI Radeon HD PRO, and even a 6-in-1 memory card reader. Say it with me: ooooh. The company even has a handy chart comparing the product to a Mac mini and an iMac.
The OpeniMac PRO is a $1,710 unit with a 3.0GHz Core 2 Duo, 4GB of memory, a 500GB SATAII drive, SuperDrive, and a Nvidia GeForce GS graphics card (plus that enviable 6-in-1 memory card reader), which the company compares favorably with 20" and 24" iMacs.
The decision of the Psystar case aside, there's no question that Apple will be parachuting lawyers into the country to deal with the trademark infringement over the company's use of the term "iMac." Buena suerte, muchachos.
[via Gizmodo]