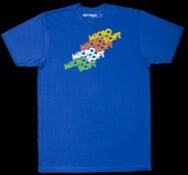 Watch out, Apple shareholders: Microsoft has just upped their hip factor by like, eleventy percent. Struggling with the task of reinventing their image, they've done what any self-respecting rapper software company would do: create their own clothing line.
With the help of their friends at Crispin Porter + Bogusky and the blessing of rapper Common (I knew there was a rapper somewhere!), their retro-styled uber-hipster clothing line, "Softwear by Microsoft," is expected to hit select stores on Dec. 15—I'm guessing Urban Outfitters will be one of them.
Microsoft says it's a "clothing line that taps the nostalgia of when PCs were just starting to change our lives," and that it aims to "showcase the DOS days of the software company that now connects over a billion people."
I guess the "Proud to be a PC" and Seinfeld ads just didn't cut it for Redmond.
In all honesty, I don't think the shirts look half bad. I'm no fashionista, but retro designs seem to be in at the moment. I can just see the hordes of skinny, shaggy-haired 20-somethings riding on their fixed gear bikes, rocking these shirts on the way to the MGMT concert.
Me, I'm still waiting for Microsoft to unveil their line of cologne. Just think of the possibilities: Vista Fresh Essence, Blue Screen Body Wash, Explorer Eau de Toilette. It staggers the mind!
[via AdAge]