Bring out the tinsel and spike the eggnog—the holidays are almost here. That means it's the perfect time to find uses for the photos you've been taking all year. Whether you're tacking up some holiday lights, making ornaments, or entertaining the kids, using your photos is a great way to add a personal touch to your celebrations.
Holiday Lights
Candles and the winter holidays have a long history together. The ancient Romans gave wax candles as gifts during Saturnalia—their December festival of food, wine, and general debauchery celebrating the god Saturn. This year, liven up your own festivities with these homemade photo candleholders.
What You'll Need You'll need clear or translucent candleholders or votive holders, as well as a tape measure, scissors or a utility knife, transparent tape, tea lights or votives, and ink-jet–printable paper. We used vellum, but backlight film from The Crafty PC or transparency film will work as well.
Step 1 First, measure each candleholder's circumference and height. Your photos will need to be 0.5 inch shorter and wider than the candleholder. So, for example, if your candleholder were 2.5 inches high and 6 inches around, your photo would need to be 2 by 6.5 inches.
Step 2 When you have your measurements, take a look at your photos. Use your favorite image-editing program to crop them to the correct size. In iPhoto, select the first image you want to use and then choose File: Print (there's no need to crop beforehand). In the Print Settings window, select Custom from the Print Size menu, enter the appropriate width and height, and then click on OK. To reposition your photo within the resulting frame or to zoom in on a smaller area of the im-age, click on the Customize button. Click once on the image and then use the resulting zoom slider and hand tool to adjust the crop to your liking. When you're done, click on the Print button to set the rest of your printer options.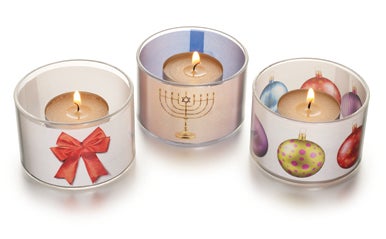 Step 3 Print the photos on your paper of choice. Check with the paper manufacturer to find the best printer settings for your paper. Once the ink is dry, cut out the prints.
Step 4 Wrap each print around the outside of a candleholder and use tape on the inside of the print to hold it in place. When you've wrapped each candleholder, place a candle inside and light it.
Photo Album Ornament
We saw some custom photo ornaments at our local photo lab the other day, and frankly, we were underwhelmed. They were a bit pricey, not so stylish, and only had one photo on them. "Bah, humbug!" we said. So we went home, poured ourselves a stiff eggnog, and set to work creating our own photoalbum ornament. Although it takes a little more work, our ornament features more photos, shows more panache, and costs much less—so you can afford to make as many as you want.
What You'll Need To create your ornament, gather four wallet-size photos (2 by 3 inches), one piece of colored construction paper, a pencil, a ruler, scissors or a utility knife, a glue stick, a hole punch, and a piece of thin ribbon (no more than a half inch wide).
Step 1 Your first task is to choose your photos. You might select four photos that sum up the past year, or create an ornament featuring a particular relative.
Get wallet-size prints made at a local lab or print them at home. To do this in iPhoto, drag each of the images you want to print into an album, press command-A to select them all, and then click on the Print button. In the Print Settings window, select 2×3 from the Print Size menu and click on Customize. In the next window, select Multiple Photos Per Page from the Per Page menu to fit all four images on the same page. When you're done, click on the Print button.
Step 2 With a ruler and pencil, mark a 3-by-8-inch rectangle on the piece of construction paper. This will be the foundation of your miniature album. Now use the ruler and pencil to divide the rectangle into four 2-inch sections. Cut out the entire rectangle using the scissors or utility knife.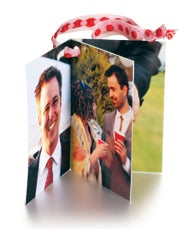 Step 3 Using the section lines you marked as guidelines, fold the rectangle accordion-style. Now attach one photo to each section of the folded paper, all on the same side, using the glue stick.
Step 4 When the photos are dry, fold up the album again. Use the glue stick to glue the back side of the accordion's middle section together. This will keep the book from unfolding when you hang it up. You can decorate the front and back covers any way you want.
Step 5 When you're finished with the miniature book, punch a hole in the top left corner of the al-bum (be sure to punch through all the pages at once). Cut 5 to 6 inches of ribbon and thread it through the hole. Now simply hang the album on your celebratory object of choice, top up your eggnog, and enjoy that whole peace-and-goodwill thing.
Custom Coloring Pages
Every child should have the opportunity to scribble outside the lines, between the lines, or even on the walls (just once). With a great photo and some free online tools, you can make kids their very own custom coloring-book pages.
What You'll Need Aside from your Mac and a printer, you won't need many extras for this project. The biggest challenge is finding the right photos. Images with simple subjects, good contrast, and clean lines work best.
Step 1 First, make a duplicate of your image so you don't accidentally write over your original. Next, use Picnik, a free online photo-editing site that makes it easy to upload and edit photos, then download the result. (Note that you must access Picnik via the main URL, as some of the features you'll need aren't included in the version that works on Facebook and Flickr.) From Picnik's home page, click on Get Started and on Upload.
Step 2 After uploading your image, click on the Create tab. Your goal is to eliminate the color and convert what's left into black lines and empty white space. There aren't any settings that will work for all photos, so think of the following instructions as starting points—you'll need to adjust the values and reapply the filters to get the desired effect.
First, click on the Black And White effect. Make sure the Color Filter is set to white, move the Fade slider to 0, and click on Apply.
Next, choose the Boost filter, which increases contrast and eliminates some of the pesky grays. Tweak the settings until outlines start to form and most grays are washed out—we used a strength of 18 percent.
Now, use the Pencil Sketch effect to turn the outlines of shapes in your photo into solid lines. For our example, we set Radius to 1.4, Strength to 116 percent, and Fade to 6 percent.
Finally, if your outlines still lack sufficient contrast, switch back to the Edit tab and click on the Exposure button. Click on Advanced and experiment with the Highlights, Shadows, and Bright-ness settings to fine-tune the contrast.
Step 3 When you're happy with your results, download your coloring page from the Save & Share tab to your Mac and print it out. Serve fresh with a side of crayons.
[Amit Gupta and Kelly Jensen write for Photojojo.com, a DIY photography and crafts newsletter.]
Note: When you purchase something after clicking links in our articles, we may earn a small commission. Read our affiliate link policy for more details.