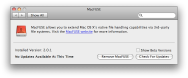 I've been closely watching the development of MacFUSE ever since its release. It has that inner-geek appeal that always makes me come back for more. In a nutshell, MacFUSE allows anything in your computer to be represented by the file system. There are a few obvious applications, like NTFS read/write access and using SSH as a file system.
This latest version makes MacFUSE a little more user-accessible, powerful, and stable. First, it now has its own preference pane. It's a little sparse, but it helps you keep up to date (with release or beta versions) as well as giving you an easy way to uninstall.
The big new under-the-hood features are 64-bit and Snow Leopard support. Most of the rest of the changes are bug fixes or developer enhancements.
If you're interested in accessing those Windows disks or dumping your SSH file transfer program, it's a better idea than ever to try it out.