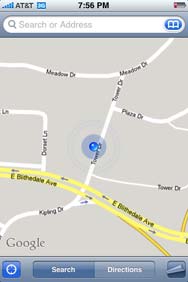 While those of you rockin' the 3G iPhone (I'm still rolling with my original 4GB non-3G iPhone) have been able to enjoy GPS and all that snazziness, you are probably out of luck when it comes to finding your way in Egypt.
According to reports in the New York Times and the Telegraph , 3G iPhones used in Egypt will disable the functionality of the GPS chip.
An Apple knowledge base article helpfully titled iPhone: Understanding GPS functionality in Egypt states:
An iPhone purchased in Egypt does not have GPS enabled
An iPhone purchased in Egypt that is used outside of Egypt does not have GPS enabled
Any iPhone used while roaming in Egypt does not have GPS enabled
An unlocked iPhone used with an Egyptian carrier's SIM does not have GPS enabled
That being said, I'm not sure exactly how an Egyptian SIM card can prevent GPS from working on a phone. After all, the SIM card doesn't know what kind of phone it's in, right? Maybe just phones that are officially sold in Egypt have to have the GPS disabled before they can be sold. And, despite the fact that the above knowledge base document says that iPhone used "while roaming in Egypt" can't use GPS, the Times story also suggests that an American iPhone 3G bought via eBay wasn't subject to the same restrictions.
Meanwhile, The Guardian reported:
Thousands of rich Egyptians now sport handsets like the Nokia N95, while groups trekking in the deserts or off the beaten track often use satnav gadgets.

"It's a direct link to the satellite, so there's no way they can stop you," said Stefan Geens, a Swedish blogger who lives in Cairo. "These days mobile phones are ubiquitous and there's no way of telling what you're doing with one."
Any Egyptian readers out there that can confirm this?