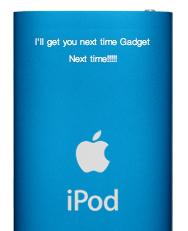 Times are tough, we know, so here's something to consider if you're planning on asking for (or giving) a personalized iPod for the holidays. Apple's made it easier and easier to engrave an iPod with a special message—a two-line message is free and doesn't add anything in the way of shipping time. But there's a catch: engraved items aren't returnable.
Apple notes this on the engraving page, where it warns you to make sure your message is spelled correctly. That's nice, but our friends over at The Consumerist also point out that it's also a great cost-saving measure for big corporations, such as Sony, who said that engraving items has saved them one meeeeellion dollars. So it's important to know that you're getting somebody the right iPod—maybe little Suzy wanted the green model, not the pink one. Maybe Uncle Dave has more than 8GB of music he wants to carry around with him. You see where I'm going? Maybe skip the engraving unless you're absolutely sure you're getting the recipient what they want (it's often harder to re-sell engraved iPods too).
On the flipside, the fact that engraved iPods are non-returnable really helps me with my Christmas tradition of sending gifts to all of my enemies. There's nothing like sticking 'em with a personalized gift that's non-returnable but too good to just throw away.
Because isn't giving what Christmas is all about?