Other World Computing (OWC) announced Tuesday faster Mercury internal SuperDrive replacement kits for MacBook Pro 17-inch models. The new upgrade kits are priced at $89.99 and $104.99 respectively.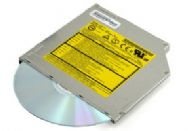 The kits include an 8x DVD-R drive that also burn DVD-DL discs at 6x, 5x for DVD-RAM and 24x for CD-Rs. The $84.99 kit includes the bare drive; for $104.99, you receive 10 pieces of DVD-R media in jewel cases, EMC Retrospect backup software and NTI DragonBurn CD/DVD authoring software.
OWC claims the drive is the exact same kind that Apple uses; it works with Finder disc burning, iTunes, iDVD, Apple DVD Player, Roxio's Toast, and CharisMac Discribe.
Installing a replacement optical drive in a 17-inch MacBook Pro can be tricky. Other World Computing includes step-by-step instructions for the do-it-yourselfer; alternately, the company also offers installation service if you'd rather not risk it.