After a year-and-a-half with my iPhone, I can't imagine ever going back to my PDA and cell phone—the iPhone runs my life, telling me where I need to be and letting me stay in touch wirelessly. But for all its wizardry, it can't obey my commands, something even my ancient Motorola phone did admirably. That makes it tough to call someone when I'm on the go and practically impossible to use when I'm driving.
For this round-up, I looked at eight apps that promise to let you make calls by voice command. None of them fill the bill perfectly, but they're a reasonable alternative to dialing using the keypad or your contact list if you're not driving.
Ready and listening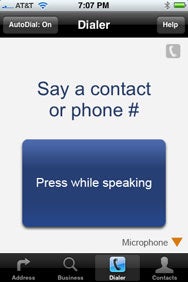 Most of the dialers make you tap or press a button before you speak, so it's harder to initiate calls by mistake. But that forces you to keep your eyes on the screen while you're voice dialing, so you can't make calls with the iPhone at your ear.
In contrast, Fonix iSpeak from Fonix Speech listens for your commands whenever it's running, so you can use it without looking at the display. iSpeak also provides comprehensive audio feedback, optionally repeating the name of the person that you're calling, so you know you have the right number. Oddly, though, iSpeak remains active even if you put the iPhone to sleep—Fonix ought to add a control to let you turn voice recognition off temporarily and keep it running. Like iSpeak, Vocalia from Creaceed doesn't require any action before you issue commands, but it quits when you wake the iPhone.
The right match
Voice dialers work by comparing your voice to the names of contacts in your iPhone's address book, but only Makayama.com's VoiceDial forces you to record the name of every person that you want to dial in advance—the app is not practical if you have more than a handful of contacts.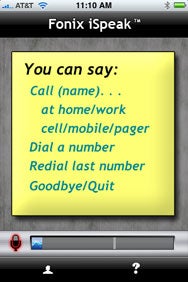 None of the other apps require any training, and all of them let you dial contacts who have more than one phone number by saying which one you want ("call Steve Jobs at home" or "call Bill Gates mobile"). If you don't know the name of the person you're trying to call, three of the programs (Fonix iSpeak, Say Who Pro Dialer & Maps from Excuse Me Services, and VoiceBox Technologies' VoiceBox Dialer) also recognize spoken phone numbers.
Recognition accuracy depends on a host of factors, including ambient noise, how clearly you speak, and the name of the person you're calling. Noisy environments like the inside of a car or a busy office are especially challenging. As someone who spends much of my time working with speech recognition systems, I've found that the results are often quirky, sometimes varying even from minute to minute. That probably explains the widely varying opinions that you'll find in voice dialer reviews posted in the App Store.
In my tests with contacts that ran the gamut from simple names to tongue-twisters, two of the programs, Say Who Pro and VoiceBox Dialer, performed very well, even with high background noise levels. That's probably because both programs send your voice commands to a remote server for analysis instead of doing it locally. The downside of this approach is that performance suffers if you're on a very slow network, but both were acceptable on my first generation iPhone's EDGE connection. Say Who Pro also works with Google Maps to let you search for local addresses or businesses by voice. (There's a free version of Say Who Dialer that limits itself to just auto-dialing.)
Of the apps that don't require network connectivity, Fonix iSpeak fared the best overall, getting most of my calls right on the first or second try.
On the road
If you're expecting voice dialers to let you make hands-free calls while you're driving, you'll be disappointed. Thanks to limitations in Apple's iPhone software for developers, none of them fully support add-on Bluetooth headsets or car kits. To make a call, you have to launch the app if it's not already running, wait at least a few seconds until it's ready, and then tap or press and hold a button if the app requires it—that's too much to do safely while you're behind the wheel, and it's against the law in some states. You can carry on a conversation through a Bluetooth device after you've started a call, but that's not the same.
While looking for a safer alternative, I came across a service from AT&T called VoiceDial. For $5 a month, VoiceDial lets you make calls by voice by calling a toll-free number. You add contacts to your VoiceDial address book using a slick Web interface, and the recognition is excellent, even in traffic. If you make sure that the VoiceDial access number is at the top of your recently called list before you get into your car, you can initiate VoiceDial calls through Bluetooth devices that support redial. (Some studies show that any cell phone use impairs your driving ability, so always be careful.)
The bottom line
Say Who Pro Dialer & Maps and VoiceBox Dialer both provide very good accuracy at the expense of requiring an active network connection to perform their magic. And, despite assurances from their vendors, you may want to avoid them if you're concerned about sending your voice dialing commands to remote servers.
Of the remaining apps, Fonix iSpeak is my top pick—it's reasonably accurate, and you can use it without looking at the screen.
As I've mentioned, none of the voice dialers is an acceptable solution for making calls while you're driving, but that's Apple's fault. I'm hoping that with enough feedback, Apple will support Bluetooth dialing or offer its own voice dialing solution in a future software update.
All apps rated in this round-up work with any iPhone running the iPhone 2.x software update.
[Franklin N. Tessler is a university professor and radiologist who lives in Birmingham, Alabama.]
When you purchase through links in our articles, we may earn a small commission. This doesn't affect our editorial independence.