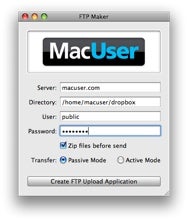 It's no surprise that when most people have to move digital files around that they end up falling back on email. Remembering file servers' addresses, usernames, and passwords can be a pain, even with the help of OS X's Keychain. Softhing has come up with a clever solution, though: what if you could just give people an application for uploading files via drag-and-drop that would take care of all those minutae?
Softhing's new FTP Maker 1.0 lets you do just that: just plug in the server, username, password, directory, and choose whether or not you want files automatically zipped, and click "Create FTP Upload Application." What you get is a small (less than 1MB) application that lets users drop files on an FTP server without any hassle. You can even personalize it with your company's logo. And, best of all, it can help give you a break from having to deal with emailing files back and forth.
Simple, but effective (especially if you're dealing with the non-savvy types). A license for FTP Maker costs $30, and the unregistered free trial version limits you to uploading files of 1MB or less. The software runs on any version of Mac OS X 10.4 or 10.5.