Continuing our look at the many apps that help you find movie listings—such as the free Movies ( )—we turn our attention to Showtimes. Finding where and when a movie is playing has progressed from looking in your local paper to running a quick Web search. But neither of those methods can tell where you are at a given moment and show you what's playing around you. That's what makes Avantar's location-aware Showtimes so helpful. (For some reason, the company also offers a nearly identical app, OneTap Movies, that's the same as Showtimes except for some changes in color scheme and background.)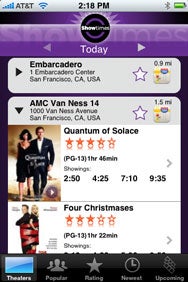 When you launch Showtimes, the app figures out your location and shows you the movie theaters in your area in order of proximity. (The app is fully supported in the U.S., and the company says "some features may not be available in other countries," but doesn't specify what those features are.) The amount of time it takes to load movie data depends on your data connection, as well as your location (if there are a lot of theaters nearby, it will take more time to load). But in general, it's pretty quick on a Wi-Fi or 3G connection. And what it loads is an attractive and functional interface that makes the app ejoyable to use.
You can set a location as a default for future use, or manually enter an address, city, or zip code. If there are certain theaters you tend to go to most often, you can tap the stars next to their names to force those theaters to float to the top of the list—a useful time-saver. And next to the stars you'll find a map icon that can launch the iPhone's Maps application and not only show you where a theater is, but also use your location to give you directions to the theater. (I found this particularly useful when looking for a movie while on vacation in an unfamiliar city.)
Read more…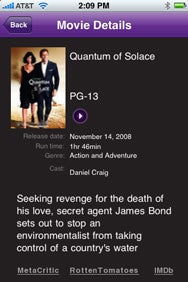 To see what movies are playing at a given theater, you tap the floating bar for a theater to expand its listing. From there, you can see the movies, along with posters, MPAA ratings, length, and remaining showtimes for the day (arrows at the top of the screen let you jump to future days as well). Tap a movie and it opens up into a new window with additional information (release date, genre, cast, summary) as well as a button that launches a movie trailer.
The bottom of a movie's page also includes links to MetaCritic, RottenTomatoes, and/or IMDb pages for that movie, using an integrated browser; you're not forced into Safari and out of the app. As with most of the other iPhone movie apps, you can't use Showtimes to purchase tickets to a movie, however.
Other tabs along the bottom of Showtimes let you view movies by popularity, user rating, or newness. Those three views have the added benefit of letting you see all the theaters and times for a particular movie—something you can't do from the Theaters screen (or from anywhere else, for that matter, since there's no movie search function). Finally, there's an Upcoming tab that shows movie info and previews for—you guessed it—upcoming films, along with the expected release date.
The application is compatible with any iPhone or iPod touch running the iPhone 2.x software update.
[Senior news editor Jonathan Seff has used Showtimes to find movies in San Francisco, Los Angeles, and New York.]