At a Glance
Expert's Rating
Our Verdict
[Editor's note: The following review is part of Macworld's GemFest 2009 series. Every day until the end of June 2009, the Macworld staff will use the Mac Gems blog to briefly cover a favorite free or low-cost program. Visit the Mac Gems homepage for a list of past Mac Gems.]
If you're a recipe geek and need a place to store, organize, and categorize your current and potential meals, look no further than MacGourmet . From the program's recipe box metaphor to its flexible visuals, plug-in architecture, auto import functions, and smart searching, this is one of the most versatile and extensible programs available for any cook.
MacGourmet is the core program, but it also has several optional plug-ins (Mealplan, Nutrition, and Cookbook) that let you extend what MacGourmet can do. If you want all components of the program, they're bundled in MacGourmet Deluxe. MacGourmet Touch ($5) is the companion app for the iPhone or iPod touch that you can use to sync your recipes and shopping lists while on the go.
Cornucopia of choices
Upon launch, MacGourmet gives you five input categories: Recipes, Notes, Shopping lists, Wine notes, and Clippings. Information from URLs to text can be stored in these sections of the program. While the Wine and Shopping lists are fairly straightforward, whether you use the Recipes, Notes, or Clippings depends on how you want to capture and import your information.
The program is fairly intuitive, but it's helpful to check out some of the video screencasts on the MacGourmet Web site. Because there's so much variety, and you can approach tasks in various ways, it can take some time to get grounded in a workflow and square the program's capabilities with your goals. The user guide, for example, is over 60 pages long just for the core program, which gives you some idea of its depth.
For MacGourmet's recipe box–its main recipe database–you have your choice of layouts: standard or widescreen. The standard layout is reminiscent of Apple iTunes or Mail with its left-hand sidebar, top list, and bottom content area. The widescreen version looks almost like the default Entourage or NetNewsWire layout, with three main sections aligned side by side. I preferred the widescreen version, and it's especially well suited to large monitors. If you're on a laptop, you might want to stick with the standard version, which is a little more compact.
In addition to the layout, you can choose from a fair number of nicely designed on-screen formats, styles, colors, and themes and change them at will. New themes are available for download from the MacGourmet Web site. There's also a generous variety of print layouts and color schemes, so you can choose how recipes look in print as well as on the screen.
A Featured section showcases some of the recent and popular items posted on the MacGourmet Web site. Some users will like this assortment of recipes, cookbooks, kitchen equipment, and other items. I found that for the recipes there was not enough information to determine whether I really wanted to import it into my collection, but if you don't like any recipe, it's easy enough to delete it. I largely ignored this section.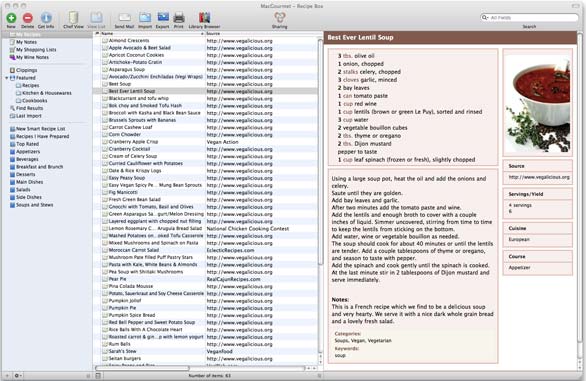 Recipes
MacGourmet gives you several ways to incorporate recipes into it. The Web clipping service lets you capture text from a Web page via the browser's Services menu. Say you see an interesting recipe online and are too busy to deal with it. Just select it, choose the Make Text Clipping command, and there it is in the Clippings section of the program. This feature worked well in Safari and any program that supports Mac OS X Services, such as TextEdit, Pages, TextWrangler, and Camino, but not Firefox. Once you have your clipping, you can then use the Recipe Import Assistant to properly format it. The Services menu also lets you directly import recipes from the program's supported recipe Web sites: allrecipes.com, epicurious.com, foodnetwork.com, williams-sonoma.com, cookinglight.com, and food.yahoo.com. If you import recipes into the program from these sites, all you need to do is select the URL and choose Import Recipe From Web Page from the MacGourmet Services menu. The program does the work of placing all the information into the correct recipe fields.
In MacGourmet's database, you have numerous ways to sort information about dishes, including ten categories that you can fill in as you create your recipe. I wound up using the following: Name, Source, Images, and Categories. However, depending on what sort of meal you're planning, I can see using the Flag, Rating, Course, Keywords, Prepared, and Difficulty categories. For example, just using the categories, I was able to weed out 90 percent of all meat dishes that I imported as part of a large group of bean recipes. You can change the default positions of these columns as well as add and remove them.
Searching
One of the most powerful conveniences of having a recipe database is being able to search it. MacGourmet has extensive search capabilities both within the program and via the Mac OS Spotlight utility. The main search box lets you search your recipes, notes, and wine notes, and map searches to your recipes' data fields. A Cupboard Find feature lets you enter ingredients that you have on hand (say you want to make something, but you don't want to take a trip to the store), and then find a recipe that uses only these ingredients. Smart lists (for recipes, wine notes, and notes) work as expected. You'll find that the more database information you enter for individual recipes, including keywords and categories, the more flexible and extensive your search results will be.
MacGourmet's library browser, a floating tabbed palette reminiscent of iWeb's media palette, is a powerful feature that lets you view and edit your database entries. The library browser has tabs for recipes, wine notes, and cooking notes. The tabs have a popup menu of fields you can view and modify.
Importing and sharing
MacGourmet gives you many ways to share your recipes, including a MobileMe capability that lets you create a recipe Web site or publish your recipes to your blog. It gives you at least eight formats for both import and export, including MasterCook, Text, and Yum XML.
An extensive toolbar offers one-click control over importing and exporting recipes and sending recipes by e-mail. The Chef View supplies basic cooking directions in huge type so you can read it from across the kitchen without having to touch the keyboard or mouse.
One thing I did have problems with was MobileMe integration. While you should be able to upload a blog or Web site to MobileMe, this feature did not work on either of the computers I tried it on.
Elegant touches
MacGourmet includes a large number of interactive niceties that make the program enjoyable to use. Elegant touches like the puff of smoke animation when deleting a recipe from the main library or the sound effects accompanying the transfer of recipes to different categories all contribute to the program's feeling of completeness.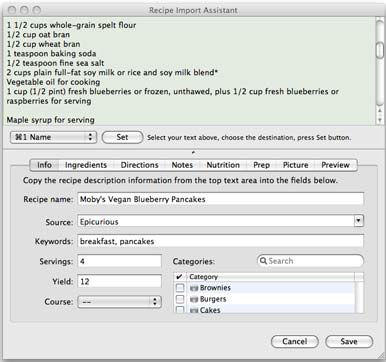 The program's elements are very Mac-like, including the adjustable toolbar and the Library browser. You can view a summary of each recipe or just the recipe names by clicking the bottom button of the main list to toggle between views. A small heads-up display appears as you mouse over each recipe in the list, telling you how many servings the recipe makes.
A relationship manager lets you group recipes, wine lists, and shopping lists together so that you always have the set of elements you need for a particular meal or event. Once you link your recipes to each other or to a shopping list, they will remain linked.
And don't forget to check out the resources from the program's Help menu. You'll find an exhaustive user guide and Help system, as well as a reference to the MacGourmet forum and assorted other goodies.
If you work extensively at cooking or event planning, or you're just intensely organized and interested in exploring the subject, MacGourmet should be in your shopping cart. Its functionality and extensibility add convenience and ease to tasks that can become mundane over time. Its automated features and flexible presentation are appealing, and the core program is priced attractively. If you want to add features like nutritional information, meal planning, and cookbook publishing, you can add on the items you're interested in piecemeal or just purchase the Deluxe version.
Want to stay up-to-date with the latest Gems? Sign up for the Mac Gems newsletter for a weekly e-mail summary of Gems reviews sent directly to your inbox. You can also follow MacGems on Twitter.
Our 186-page Mac Gems Superguide is a veritable greatest hits of Mac Gems. It's available as a PDF download, PDF on CD-ROM, or as a printed book. Learn more about the Mac Gems Superguide.
[Jackie Dove is Macworld's senior reviews editor.]