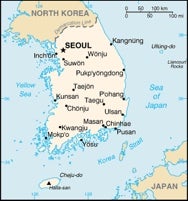 Good news for residents of South Korea: the country has revoked a rule that would have prevented the iPhone and other foreign-made handsets from being sold in the country. The regulation stated that all data-enabled mobile phones sold in South Korea had to support a common homegrown platform, the Wireless Internet Platform for Interoperability (WIPI).
The decision to drop WIPI came from the Korean Communications Commission (KCC), after an extensive debate, according to the Korea Times. An official said that the move was a result of the continuing global trends towards mobile operating systems that didn't support the standard. As a result, as of April 1st of next year, vendors such as Apple, RIM, and Nokia will be able to sell smartphones in the country.
South Korea is a pretty tech-savvy nation, regularly topping lists of broadband penetration and internet access; computer gaming is also extremely popular. Some estimates say as many as 90 percent of South Koreans own cell phone and most use advanced features like watching TV on them. Many also replace them regularly—roughly every year or so.
Whether the iPhone can compete in such a tech-heavy environment is certainly a question, but not one that's about to stop Apple from playing in what could be a very lucractive market. That said, don't expect the iPhone to make it across the border to North Korea anytime soon.