At a Glance
Expert's Rating
Pros
Easy to use. Lots of shooting modes. Very good color quality. Good movie image quality using H.264 format
Cons
Noisy lens motor. Images lack sharpness. Portions of Auto Shutter feature not reliable
Our Verdict
When it's time to take pictures, no one wants to fuss over camera settings. It's especially frustrating when you have to set up a point-and-shoot camera. After all, aren't you supposed to be able to simply point and shoot? Like many point-and-shoot cameras on the market today, Casio's Exilim Zoom EX-Z250 is full of features, but the EX-Z250 has an easy-to-use design and lots of shooting modes that help take the guesswork out of setting up the camera.
Shooting modes
The EX-Z250 has 34 different preset shooting modes—an intimidating figure at first. Big, intuitive icons represent each mode; for example, the Self-portrait mode features a woman pointing a camera at herself, the Soft Flowing Water mode has an icon of a stream. Once you become familiar with each mode, the mode selection screens don't seems as intimidating, and you'll find that there's a mode suitable for just about any shooting situation.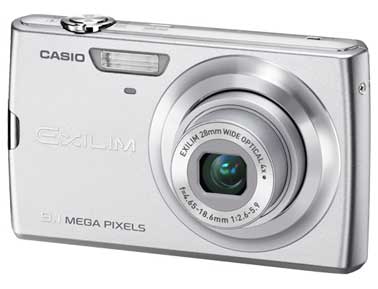 If you don't want to mess with the modes, you can always use the Auto mode, which lets the camera determine the proper settings. Or you can use the Auto Best Shot feature, where the camera senses the shooting conditions and selects one of six modes: Macro, Night Scene, Night Scene Portrait, Portrait, Scenery, or Sports. While using Auto Best Shot, I found that the camera shifts into Night Scene mode whenever it senses that light is low. When objects are close to the lens, the camera changes to Macro mode. When the camera senses moving objects, it shifts into Sports mode. Distant, still subjects trigger Scenery mode. Only on a few occasions did I notice that the camera invoke Portrait or Night Scene Portrait mode.
Casio's Self-portrait mode is cleverly implemented. In this mode, you press the shutter before you aim. Then you point the camera at yourself and the EX-Z250 uses its built-in face detection technology to "find" your face. Once it has, it focuses and then snaps a picture. You no longer have to hold the camera awkwardly so you can press the shutter; instead, you can concentrate on where the lens is pointing. It would be nice if the camera had a warning beep to let you know that the camera is about to shoot, but otherwise, the Self-portrait mode is an effortless way to take pictures of yourself, or yourself and another person.
On top of the shooting modes, the camera has what Casio calls Auto Shutter modes. With Auto Shutter enabled, the camera doesn't take a picture until it senses that the conditions meet the mode's settings. There are three Auto Shutter modes: Detect Blur, where the camera shoots once the subject is in focus; Detect Panning, where a moving object is tracked and a picture is taken when the subject is in focus; and Detect Smile, where the EX-Z250 won't shoot until it senses that all the framed subjects are smiling. The Detect Blur feature is quite helpful, because it shoots immediately after focusing, making it more efficient than activating the focus yourself by pushing the shutter halfway, and then pushing the shutter completely to shoot.
However, with Detect Panning and Detect Smile, I had several times when the camera wouldn't shoot, even though the condition had been met. For example, oftentimes with Detect Smile, the camera would successfully find the subject's face, but even after a full minute of smiling (starting with five seconds of not smiling), the camera would not shoot. Other times, it worked without a hitch. In the end, I would only use the Detect Blur Auto Shutter feature on a regular basis.
For more experienced photographers, the EX-Z250 allows you to adjust brightness, white balance, ISO (up to 3,200), metering, sharpness, saturation, contrast, and flash intensity.
Photo image quality
Jury tests
| | |
| --- | --- |
| Image Clarity | Good |
| Color Quality | Very Good |
| Flash Quality | Very Good |
| Battery Life | Over 1,000 shots |
Scale = Superior, Very Good, Good, Fair, Poor
A jury of experts examined the pictures from the EX-Z250. Shots without a flash were a tad on the dark side, while shots with the default flash settings showed a number of strong reflections on subjects that were about 5 feet away. Shots with the flash set to Soft Flash looked quite pleasing, with barely any noticeable visual hot spots. The Flash Quality jury images received a Very Good rating. In all of the jury pictures, colors looked accurate, skin tones looked realistic, and we didn't notice any serious color casts. Color Quality jury images received a Very Good rating. All of the images looked a bit soft, and in our Image Clarity jury test, we noticed that detail wasn't as sharp as we've seen from other recently released point-and-shoots. The EX-Z250 received a Good rating for Image Clarity.
Specifications
| | |
| --- | --- |
| Resolution | 9.1 megapixels |
| Zoom/Focal Length (35mm equivalent) | 4x wide/28-112mm |
| Battery Type | Lithium ion |
| Media Slots | One (SD, SDHC, MMC) |
| Size (W x H x D) | 3.8 x 2.3 x 0.8 inches |
| Weight | 4.2 oz |
Video
Casio touts the camera as YouTube friendly, which means that it has a preset movie mode that formats video for use on the popular video-sharing site. The YouTube mode records movies at 640-by-480 resolution at 30 frame per second in H.264 QuickTime format. The EX-Z250 also has a Prerecord (Movie) mode, which records five seconds of video before you push the movie record button; when you actually start recording, the five seconds before shooting becomes part of your movie. It's a helpful feature that can prevent you from missing a moment. Movies in Prerecord (Movie) mode also recorded in H.264 QuickTime format, and you can use the same resolution as YouTube mode, or at a widescreen 848-by-480 resolution (30 fps), or at 320-by-240 (15 fps).
The movies from this camera won't replace a dedicated camcorder, but they're color accurate. There's a noticeable amount of image noise, and the microphone catches a lot of background sound. But in a pinch, the movie mode works well.
Macworld's buying advice
Casio's EX-Z250 has a ton of preset modes to make it easier for just about anyone to take a nice-looking picture. If you are easily frustrated by gadget controls and settings, the EX-Z250 is for you. And it takes nice pictures, too.
[Roman Loyola is a Macworld senior editor.]