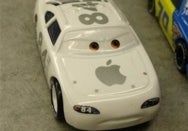 Ever wonder what would happen if Steve Jobs put his immense talents to use in a different industry? How about, say, the auto industry?
Robert X. Cringely at PBS.org has written a thought-provoking column that ponders this exact question and draws some interesting parallels between the current state of US automakers and Apple at the time Steve Jobs returned to the company, circa '97.
Steve Jobs returned to a ramshackle Apple some ten years ago and straightened things out dramatically, launching the company into an epic 180 degree turnaround to get it where it is today. So what did he do? First off, he slimmed down the absurdly bulky product line, eliminating a number of low-performing products and streamlining Apple's product offering into the current four ranges of computers: personal and professional, desktop and portable.
The US auto industry is currently facing the same problem of having way too many models and not enough buyers.
According to Cringely, Steve's primary objectives in the auto industry would be to streamline the companies' models, embracing dramatic design and improving performance, as well as safety and fuel efficiency. In short, he would want to make a limited line of vehicles with dramatic styling and visibly different technologies from the competitors, that were significantly safer and more fuel efficient than the rest.
Cringely also suggests that Steve would choose to outsource all production of the vehicles, like he did with Apple, as this would allow more flexibility in product design, and would allow the company to pit its various suppliers against each other, reducing its production costs.
Whether you agree or disagree with the notion that Steve Jobs would be good at selling cars, the article makes an interesting read. My question is, would the cars come in other colors besides brushed aluminum?