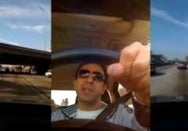 Ever heard of GOSHone? Neither had I, nor anyone else for that matter (his My Space profile has only under 200 friends at the moment). But this mysterious nerd-core rapper has accomplished something that can only be described as "pretty cool." The self-described "mad scientist with computers, gadgets, and musical equipment" filmed his first music video entirely on a jailbroken iPhone.
He uses triple-split screen to dramaticize the rather mundane imagery that consists mostly of GOSHone pointing the iPhone's camera at himself while he raps in front of various settings. He even films himself rapping while driving. It may be illegal to talk on your cell phone while driving (at least in California), but there's no law against filming music videos behind the wheel!
Enjoy the free publicity headed your way, GOSHone. You've earned it!
[via TUAW]