At a Glance
Expert's Rating
Pros
Challenging
Clever gameplay
Entertainingly weird
Cons
Soundtrack can be irritating
Lackluster multiplayer
Our Verdict
World of Goo is a trippy puzzle game that pushes your knowledge of physics to its gooey limits in a post-modernistic setting. Fun, quirky, and highly-addictive, World of Goo is one of the most entertaining puzzle games to come to the Mac in years.
Divided into five chapters and a loose story about a World Goo Corporation that transforms the self-aware Goo into things like beauty cream, World of Goo has hours of amusing, challenging, and just plain weird missions to play through.
The namesake Goo is used as building blocks for harrowing physics puzzles. Initially, you're directed to construct various bridges and structures in order to reach a pipe that serves as a goal for each mission. Each color of Goo has its own special ability, from explosive red balls to re-deployable green ones. You construct a structure that will eventually ferry your Goo ball towards the goal, and the more Goo balls that remain unused, the better.
World of Goo are a physics simulator at heart, so expect to build plenty of triangles. The difficulty curve gets steep quickly as you're introduced to new types of Goo. Eventually, you'll have to float your structures around obstacles, spring booby-traps, ignite explosives, and construct "drool" to progress.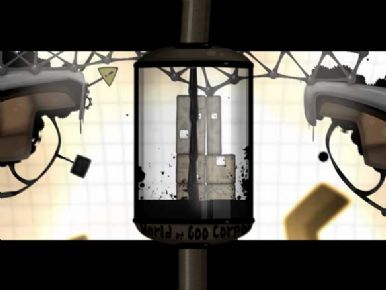 The cartoonish art reminds me of a combination of the television show " Invader Zim" crossed with the addictive qualities of games like Dr. Mario and Snood. While not inherently dark, kids won't fully appreciate some of the zany and satirical humor present throughout the game. For example, a power plant that runs on the beauty of a woman breaks down and is thankfully fixed by cosmetic surgery. A computer is run by an obsolete system called Mom which may or may not have given away all of your personal information. Oh, and the Goo balls squeak adorably.
The initial missions throw you into a strange world where a sign painter is your only guide. Be sure to click on all of the signposts to reveal the goal of the mission, get hints on how to solve it, or understand the world around you a bit more. Each sign reads like a post-modern haiku, a physics joke and a commentary on the game's self-aware silliness all in one. "What kind of factory designer would put deadly spikes all over the walls?" moans the sign painter at the seeming impossibility of a level.
The soundtrack is pretty catchy, some frenetic pop, jazz, and classical tunes mix together to fit the given situation. But each song seems about half as long as you'd like and on the some of the tougher missions the music's monotony becomes a source of frustration.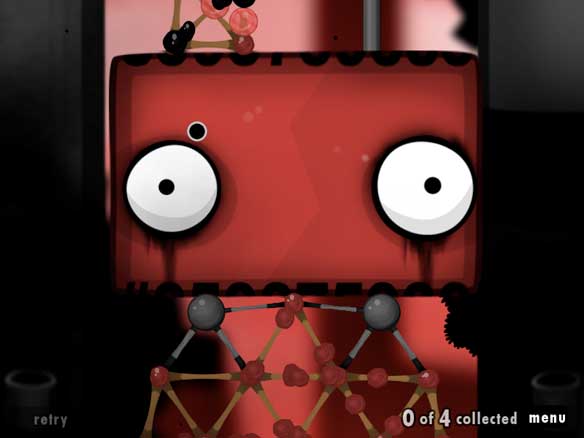 The multiplayer for the game is a bit underwhelming. The World of Goo Corporation tab directs you to a free form area where you are tasked with building the highest structure you can with the excess Goo balls you've collected throughout the single player campaign. Each cloud denotes another player around the world and serves as an indicator of your progress. As your structure gets bigger, you see your name rise through the international rankings. If your structure proves too unwieldy and collapses, you can always reset.
I tested the game on our standard 2.4 GHz MacBook Pro with the Nvidia 9600GT graphics card, but due to the game's low system requirements and cartoonish art style, users with less sophisticated machines should still be able to enjoy World of Goo to its fullest.
Macworld's buying advice
World of Goo is a quirky and challenging puzzle game. The lackluster multiplayer and incoherent narrative may turn off some players, but others will find the challenging game play and unique aesthetic compelling. Though the later puzzles can be too obtuse and difficult, the levels as a whole are varied and require diverse skills-the developers reinvent the game with each new chapter. World of Goo is one of the most original, clever, and varied puzzle games to come to Mac. Ever.
[Chris Holt is an assistant editor for Macworld.]