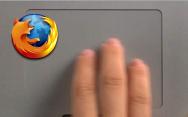 If you've got a Late 2008 MacBook, or a Pro, or an Air—you know, one of the ones that supports multi-touch gestures—then you should know that with the latest beta version of Firefox, you can go hands on with your browser.
According to MacRumors, here's what you can now do on Firefox. (Remember, a "swipe" is a three-fingered stroke.)
– Swipe Left: Go back in history (hold Cmd to open it in a tab) – Swipe Right: Go forward in history – Swipe Up: Go to the top of the page – Swipe Down: Go to the end of the page – Pinch Together: Zoom out – Pinch Apart: Zoom in – Twist Right: Next tab – Twist Left: Previous tab
These additions will likely be part of the final feature set in the upcoming Firefox 3.1 when it finally arrives, along with other enhancements like a faster JavsScript engine, private browsing mode, and improved rendering. But none of those are nearly as cool, right?
[via Gadget Lab]