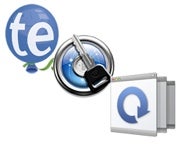 I don't pay too much attention to software bundles anymore. They usually have way more software than I need including stuff that I might use some day once—but I really don't need or want. Plus, sometimes you're haunted by the fact that upgrading those bundle licenses can be a pain.
That said, I'm making an exception for the Mac Switcher Bundle. Specfically, I like this bundle because it contains three products I use and love. In fact, they all get installed right away any time I start using a new Mac.
First, TextExpander is a typing assistant that converts text phrases into other text, formatted text, pictures, and can even be used to invoke an AppleScript. I have some stock text I use frequently, like signatures and a couple of HTML snippets. TextExpander helps me save time and avoid mistakes.
Second, we have 1Password. If you haven't tried it already, do yourself a favor and go download it. The password-storing capability built into most browsers is decent, but the information isn't shared between browsers, managing multiple logins is painful, and there are always those autofill-resistant forms. 1Password makes those issues moot and it even has an iPhone app for looking up your passwords on the go.
Finally, Witch lets you switch between all your open windows directly regardless of which application you're in. Switchers are the group most likely to want this option (to get back to that old alt-tab behavior), but even the longest-running Mac fans can get frustrated with application and window level swapping. It also makes it easier to identify the window you're switching to.
Would you pay $100? You're crazy. This bundle is $49.95. It's a great price for three well-developed pieces of software that you're (gasp) actually likely to use.