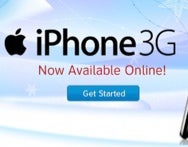 Holiday shopping can be stressful enough without having to actually go to a physical store to buy something. Until now, that was one of the chief annoyances of purchasing an iPhone: you could only do so at a brick-and-mortar outlet, whether it was an Apple Store, AT&T Store, or Best Buy. As of Thursday, however, AT&T is now offering the iPhone 3G for sale on its website.
While this means that you can now activate your new iPhone at home, as with the original first-generation iPhones, you do still need to sign up for a two-year commitment, at a risk of incurring the wrath of an early termination fee if you don't activate within a certain amount of time. AT&T still has limits in place though; for example, their website states that you can only buy one iPhone online per household, so if you're planning on buying iPhones for the whole family, you may still need to go into the store.
Strangely enough, you still can't buy iPhones online via the Apple Store; instead, Apple is still pimping its iPhone 3G gift cards, which you can buy online or in a physical store, as the best way of giving one of the devices as a gift. Ah, it's the season of giving with caveats.