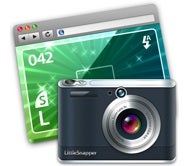 As a blogger I'm often called upon, during the course of the day, to take a number of screenshots. There are a great number of apps that can help you take pictures of applications or the Mac's interface, but very few that make capturing entire Web sites easy. LittleSnapper, from Realmac Software, wants to change all that.
Sure, LittleSnapper will happily take regular old screenshots on your Mac, but it really shines when grabbing Web sites. You can either load a Web site right inside of LittleSnapper (it has a built-in browser that uses WebKit, the same engine that powers Safari) or by using a key combo to have LittleSnapper 'snap' the Web site you're currently looking at in your browser of choice.
LittleSnapper doesn't just make an image from the Web site, it also saved a full web archive for you just in case you want to view the source of the page at a later date.
What if you're just interested in a particular area of a Web site? LittleSnapper's built-in browser is smart enough to automatically recognize various sections of Web sites (kind of like Safari's Web Clip function). Just roll over a form, for example, and LittleSnapper offers to snap just that part of the pag.
Add the ability to upload your snaps to your own servers via FTP, to Flickr, or to QuickSnapper (Realmac's own service); a variety of export formats; and iPhoto-like library functionality, and you have yourself an app that web designers, bloggers, and people who like to collect Web sites should check out. [There are people who collect websites? Weird. -DM]
LittleSnapper requires OS X 10.5 and costs $39 for a single user license and $129 for a five pack.
Note: When you purchase something after clicking links in our articles, we may earn a small commission. Read our affiliate link policy for more details.